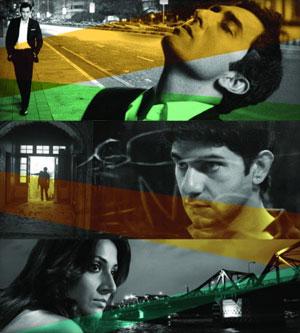 Fireflies is is one giant cesspool of sadness and agony that is ever-expanding and will engulf every barely happy soul it can get its hand on , warns Paloma Sharma.
"Kaun kambakht bardasht karnay ko peeta hai? Hum to peete hain ki yahan par bhaith sakain, tumhein dekh sakain, tumhain bardasht kar sakain," Devdas famously uttered once, presumably because he watched Fireflies.

Alcohol is to Fireflies what cigarettes were to Madhur Bhandarkar's Fashion.
The self-aware characters seem to drink their way through life to be able to deal with its scripted borderline monotony.

Drinking, at times, is all they seem to do -- that, and repeatedly making life choices that would qualify them as stupid and stupider still.

Manda, a young woman who conveniently hails from Ooty (as all upper middle class young people in such films do), narrates the story of her estranged older brothers and the tragedy that pulled them apart.

Shiv Rathore (Rahul Khanna), the older one, is a successful banker with an IIM degree, a house by Marine Drive and a pretty wife who comes from wealth.

The younger, Rana (Arjun Mathur), is a mechanic with a law degree and no practice, and a dream of becoming a scuba instructor/treasure hunter, which takes him to Bangkok.

Shiv and Rana barely see eye to eye.
Both are extremely resentful of each other and their respective circumstances and subsequently find it impossible to work things out until tragedy strikes again and they have nowhere left to go but back to each other.

Will the two siblings unite at the end of this sex-and-booze-fuelled bromance?

I think you know the answer.

Fireflies features more Indians speaking in foreign accents than a Punjabi NRI wedding.
It is interesting to observe how, contrary to the poverty-peddling English language films set in India made by foreigners, when Indians make English language films set in their own country, they usually focus on the upper class of the society.

Fireflies is littered with more SoBo soirees and wine tasting sessions than a page 3 socialite's real-life schedule.

The film runs like a highly predictable novel.

There's nothing about the characters that one would find endearing. It is hard to relate to any of them, unless you actually happen to lead a life of self-inflicted complications.

I'm sorry but in a country where a kilo of potatoes cost a staggering Rs. 30, it is a little difficult not to laugh at people in branded suits, crying over their cheesecake and champagne, about the emptiness they feel inside. But hey, at least the 'emptiness' isn't a hunger pang.

Debutant director Sabal Singh Shekhawat manages to build an unimaginably boring narrative which, though rife with pretty visuals, starts to feel like a 15-year-old's Instagram feed with all the intentional partial blurring in the frames.

There is no great obstacle in the path of the leads or an impossible goal that must be achieved. Neither is there a proper flow from one scene to another.
Shekhawat refuses to edit things out, hoarding useless footage as if the recession is coming around.

Despite all those extra sequences, he still doesn't bring the story to a proper climax.

Random people show up, random things happen and nobody bothers to lay down the dots for you to connect. Rana and his girlfriend Michelle (Monica Dogra) keep talking about a submarine treasure that we never see.

Shiv's wife (Aadya Bedi) has an unexpected change of heart.

People suddenly die of grief; and five-year-olds philosophies that because the fireflies live for such a short while, they shine so bright.

Sure kid, never mind science. I'm certain such lucid thoughts will get you far in life.

The actors have shown great skill in previous performances but don't seem to be able to pull this one off.

With the exception of some great music on its soundtrack, the film has nothing to offer.

Fireflies is one giant cesspool of sadness and agony that is ever expanding and will engulf any barely happy soul that it can get its hand on.

Here's a tip: On your way out, don't ask for your money back.

Instead, demand a crate full of Zoloft because trust me, you're going to need it.

Rediff Rating: