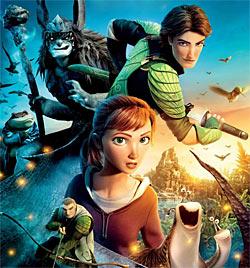 Epic is the classic good-versus-bad film with a heartwarming story, writes Ankur Pathak.

Bluesky, the animation studio behind admirably crafted films like the Ice Age series, Robots, and most notably, Rio is back with the wondrous Epic, a heartwarming film which is as emotionally stirring as it is meticulous in its production and humorous in its story-telling.

Directed by Oscar-winner Chris Wedge, also one of the founders of Blue Sky, Epic tells a familiar story of a young girl ignored by her father (a man obsessed in his quest to find a unique species of super-fast, advanced, and a magical tiny civilization which he believes resides in the forest).

The young girl Mary Katherine, voiced suitably by Amanda Seyfried, feels distant from her father, misses her dead mother and is on the verge of befriending their three-legged pug when she discovers her father's assumed world to be real after being accidently led into the magical forest.

The animated world of Epic is fantastically uplifting to watch; an awe-inspiring collage of creatures and scenery of tremendous beauty.
This is a fantasy film in the truest sense of the genre, where light-green colored 'leafmen' wear helmets and dodge dark-intentioned 'Borkans' who plot to kill the Queen (voiced by Beyonce Knowles) of the forest to raise their hideously sinister Dark Prince.

The film's characters are categorically divided between the good and the bad, and one is very
sure of their allegiance right from the beginning. It employs clichés but doesn't make it appear shallow, as most characters have a back-story which strengthens the motivations of their actions.
They are miniscule version of humans with lucid ideas about life and an unfathomable commitment to protect their forest. By giving this human dimension, the writers make the inhabitants of the jungle an accessible lot, allowing them to breathe within a familiar territory.
The snail and the slug, voiced hilariously by Chris O'Dowd and Aziz Ansari respectively, add comic relief with clever use of slapstick humour, while the romantic interest is aroused by the implicit equation between Mary Katherine and the good-looking leafman Nod (Josh Hutcherson).
In many ways,
Epic
bears thematic similarities with
Avatar
and the
Harry Potter
series. The spectacular world is reminiscent of Pandora -- complete with a mythical queen and beautiful inhabitants who worship the trees, and are capable of a spiritual connection.
So
Epic
contains all the familiar trappings, but is nonetheless immensely striking to watch. It may not be ground-breaking as far as the use animation is concerned, but packs a solid punch. The meticulous efforts invested by the makers must be honored by booking a seat in the multiplex for this epic ride.
Like all good old fantasy films,
Epic
is a classic clash between the right and the wrong, between life and decay, between light and the dark.
Rediff Rating: