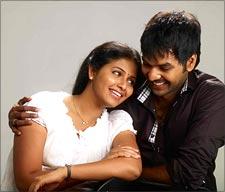 Pavithra Srinivasan feels Engeyum Eppodhum is an engaging romantic Tamil film. Post YOUR reviews here!  

It is refreshing to see a debutant director bring a tale of urban love and its pain in not just a convincing fashion, but with large dollops of comedy and a twist that jolts you out of your seat.
Fox Star Studios, venturing into Tamil cinema under the aegis of A R Murugadoss, looks like it's landed itself a winner with Engeyum Eppodhum (Anywhere, Anytime), directed by M Saravanan.

As far as stories go, it's remarkably simple: two separate romantic tales, one set in Chennai, the other in Tiruchy, intersect at one point. And from this springs a charming story that owes a lot to clever writing, fresh dialogues, and acting that's engaging most of the time.

Amudha (Ananya) and Gautam (Sharvanand) run into each other when she arrives in Chennai for a job interview, a raw, naive girl completely unaware of city life. This doesn't mean she's ripe for the plucking by unscrupulous characters; indeed, her sense of self-preservation and instinct for survival make you raise your eyebrows in appreciation. Her gradual understanding of Gautam's character paves the way for an attraction that takes her unawares and leaves her reeling.

By contrast, the way Kadhiresan (Jai) and Manimegalai (Anjali) fall in love in Tiruchy is hilarious and refreshing. Their love-track easily becomes the more interesting of the two, as the "lovers" progress through a most intriguing form of courtship, the kind that's very rarely seen in Tamil cinema.

Indeed, the way Manimegalai responds to Kadhir's advances is so unusual that every word she utters comes as a surprise. The best part is that this turns out to be the better story, the heart-warming one that leaves an indelible mark. So much so that you wish the movie had been just about this couple.

While Ananya, Sharvanand and Jai have all done well, it's Anjali who clearly walks away with the honours. She plays an abrasive, aggressive young woman, a nurse who practically leads her lover by the nose, but the extent of her feelings emerges only at the end, and carries you away. After Angadi Theru, here is another noteworthy performance from the actress.

Sathya's music is very engaging, adding to the sweetness of the story. Un Pere Theriyathu has been picturised in quirky fashion. Govindha Govindha is very catchy and fits perfectly into the screenplay, while Sotta Sotta's steady beats grab your attention as well.
Velraj's camera-work and Antony's editing are excellent; but it's the SFX team that deserves kudos.
Praise goes, deservedly, to the director for choosing a simple story that focuses on the smaller joys and sorrows of life, of personal tragedy that barely makes a mark in public consciousness. Director M Saravanan weaves a tale of love, but also has other characters you might miss if you blink, but who still have their parts to play. His biggest strength is that the screenplay rarely loses pace and manages to be realistic most of the time.
On the minus side -- yes, there is one -- there are a few choppy moments, situations which don't quite gel with the narrative, dialogues that sound like platitudes. The Ananya-Sharvanand track, while interesting, doesn't carry quite the same depth of the Jai-Anjali story, which makes things rather uneven. The way it ends, too, is cinematic.
These are minor quibbles.
Engeyum Eppodhum
is a genuinely heart-warming story, not just about romance, but about the fabric of life itself.
Rediff Rating
: