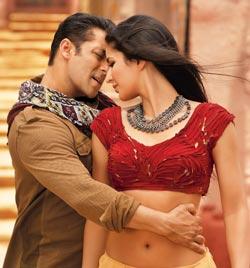 Ek Tha Tiger is Salman Khan's most accomplished works in the recent times says Raja Sen.

The shirt stays on.

So numbed are we by the onslaught of mindless Southern remakes heavy with punchlines and raucous slapstick that an action film where the leading man doesn't lose his shirt automatically feels somewhat special.

That this un-unpeeling of wardrobe happens in a Salman Khan filmamplifies the magnitude of the movie miracle. Over the last few years, Khan has almost singlehandedly -- via winks and jiggling pectorals and flat gags (and invariably record-breaking boxoffice performances- ushered in and legitimised a new level of cinematic mediocrity.

In this new film, Salman Khan discusses the sovereignty of Montenegro. Clearly this is a departure.

And yet, not so much. Director Kabir Khan scales down the ambition as he aims for a safe mainstream middle-ground in his Ek Tha Tiger, a spy-thriller which takes a while to get boiling but eventually crackles along quite effectively. That other Khan -- the one whose name is enough to give distributors orgasms and make trade analysts hunt out new hyperbolic adjectives -- does his bit and does it well. In a film industry which has trouble keeping secret agents anything but laughable, Salman out-Dons Shah Rukh and out-Agents Saif. He's not quite Ethan Hunt, but -- as we see when he hangs nonchalantly from a well-cut blazer on the top of a runaway tram -- he's something all right.

Salman plays India's top bit of intelligence muscle, a RAW agent who jumps around a lot but always lands on his feet, befitting his feline nickname. When not working, which is rare, he shuffles through a frugal, minimalistic life; this is no James Bond, just a guy wearing a OO7 tee when opening the door bleary-eyed for his milkman. Sent on an observatory mission -- boss Girish Karnad specifically requests him to not kill someone again -- the impatient Tiger seeks out action of a different kind, falling for a pretty girl. Except, well, she comes with her own set of rather colossal complications.

The first hour of the film, focussing on Tiger and his girl, is quite a drag. Salman earnestly sticks to his decidedly simplistic brief -- the sort given to stars with the acting chops of, say, Arnold Schwarzenegger -- but things never take off, mostly because Katrina Kaif, who plays his girl, is so darned leaden. It's a immensely unappealing performance, the sort we thought Kat had worked her way up from, and resultantly kills any chance of a chemistry between the pair. Khan tries valiantly, using his most cunning linguistic techniques to get her to say tangri right, but no amount of tongue-ri seems sufficient. The film, relying too heavily on the relationship, loses its footing and, about midway through, even Khan seems like less of a ladykiller than we need him to be. Fake tha Tiger?

Post-interval, however, the film changes gears. We see more of the stuntwoman than we do Katrina, which is a good thing, and even Kaif looks more at ease when sternly kicking a Cuban thug in the nuts than when looking plaintively into Khan's eyes. One well-choreographed stunt follows another, and while the whole thing is shrouded in blockbuster-implausibility, the action keeps things interesting. There is a decent 'what if' idea at the heart of the story, and, thanks to Khan, there's someone to cheer.

Kabir Khan throws in a few deft touches: a fight sequence with nightsticks choreographed like a garba, Indian and Pakistani intelligence agents being visually impossible to tell apart, and a crucial scene underscored by a fleet-fingered orchestra playing the Western Classical equivalent of show-tunes; well-suited, in short, to cross-border Tom and Jerryism. He also relies wisely on a very solid supporting cast, with actors like the ever-excellent Girish Karnad, Roshan Seth and Ranvir Shorey.

It could have been snappier, and the girl could have been much better, but the film should be applauded for giving us a non-sleepwalking Salman, and enough genuine bang for our buck. If only the flame rose higher, but ah well. Tiger tiger burning slight.
Rediff Rating: