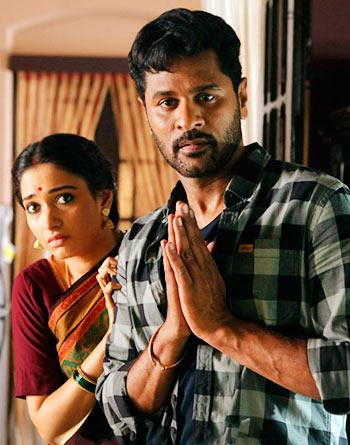 Devi is neither scary nor funny, writes S Saraswathi.
Madharasapattinam fame director Vijay's latest offering Devi is a trilingual being simultaneously released as Abhinetri in Telugu and Tutak Tutak Tutiya in Hindi. The film marks Prabhu Deva's return to Tamil cinema after more than a decade.
He produces the film himself under the Prabhu Deva Studios banner.
Though promoted as a horror comedy, the film lacks scary moments and the comedy works only in parts.
Set in Mumbai, the film revolves around the aspirations of a dead model Ruby (Tamannaah), who yearns to be a superstar.
Circumstances force her to commit suicide but her spirit continues to haunt her home reluctant to leave this world without fulfilling her dreams.
Into this haunted house walks in Krishna (Prabhu Deva) with his new wife Devi (Tamannaah again). Krishna comes from rural Tamil Nadu, but works in Mumbai.
His dreams of marrying an ultra-modern girl from the city come crashing down when his sick grandmother manipulates him into marrying an unfashionable village girl. Krishna is desperate to hide her away from his friends and send her back to the village she came from.
But dead Ruby has other plans. She is determined to use Devi to achieve her dreams of stardom.
Tamannaah plays two different characters with effortless ease transforming from a timid, insecure and unloved housewife to a bold and sexy, much-desired starlet out to conquer the world.
Prabhu Deva, who is back in front of the camera after more than a decade has lost none of his spontaneity and comic timing. But he appears dull and tired, especially when compared to the vibrant and stunning Tamannaah.
Sonu Sood, as Raj Khanna a popular actor smitten by Devi, gives a good performance.
RJ Balaji, who is usually a lot of fun as the hero's sidekick, is a letdown, being too loud and unnecessarily dramatic.
Music by Bollywood duo Sajid-Wajid and Vishal Mishra is a big plus, especially the Chalmaar number that has Prabhu Deva treating the audience to his groovy dance moves.
But the film has nothing new to offer. The plot is stale and screenplay lacks punch. The scary moments are neither scary nor funny, but rather stupid. The film does offer some laughs but becomes repetitive after a point.
Editor Anthony maintains a rapid pace and the director has kept it simple with no over-the-top fight sequences, needless sentiment or being too preachy.
At just over two hours with good performances, great music and some fun moments, Devi is a passable entertainer that keeps you engaged.
Rediff Rating: