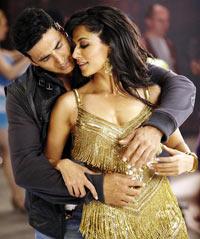 Raja Sen writes Desi Boyz is a disaster.

Selling your body -- and, by extension, perhaps your soul -- is never easy.

No matter how well you actually perform at any variant of the world's oldest profession, the very idea of being pawed at (by the undesirable, the unethical or even just the unattractive) isn't a seductive one. Being a male escort and servicing lonely women in their time of need is clearly not a job for the squeamish.

Neither is watching Rohit Dhawan's Desi Boyz, a film that paints so ridiculously rosy a picture of the gigolo life that it plays like a recruitment film sponsored by pimps.

The two leading men are forced into the hustling business by extenuating circumstances -- one wants to earn enough money to maintain custody of his nephew; the other, freshly laid off, wants to buy the Valentino wedding gown his fiancee covets -- but once they start roleplaying, they are in for a treat.
You'd be hard pressed to tell who the merchandise is, considering the two are constantly thronged by women flaunting much more skin than they ever have. This is the life of hip-hop stars, not whores.
This isn't nitpicking -- or I'd have gone on about how an apparent bachelorette party is happening on a stage in a theatre playing Priscilla, Queen Of The Desert -- but it is alarming that even in a film about two men driven desperately to Chippendale-ry, we must surround them with women dressed sluttier than they are. One of their love interests is a pouting golddigger, the other a cougar-teacher. This, a film that wants to go the full monty (but only if Monty's blonde and bosomy) is shamefully misogynistic, a perfectly nightmarish counterpart to the equally regressive Laaga Chunari Mein Daag.
To their credit, Akshay Kumar and John Abraham have taken on the nonsense with extreme enthusiasm. The ever-reliable but predictable Kumar looks young enough to go toe-to-toe with Abraham, who wears his credibly clueless look like a badge of honour -- when he isn't strutting around in slow motion, that is.
Both have to be commended for taking on a pair of beguilingly beautiful women who can't act to save their lives. Deepika Padukone, a striking girl, who absolutely should be kept away from any kind of dialogue, has here discovered underwire brassieres, leading to a series of uncomfortable poses and outfits.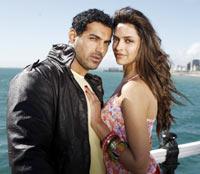 Chitrangada Singh, on the other hand, is a sheer trainwreck, so bad it hurts to watch her. (Thankfully she only enters the film in the second half.)
Before she and the second half enter, the film motors along almost tolerably. There are sloppy musical cues and an inconsistent use of narrative gimmicks ("What a flashback this'll make some day," says Akshay, for example, in a flashback at the beginning of the film, a one-off flourish never repeated) and even some standard poverty=school-fees melodrama, but compared to what Kumar's been putting us through in recent months, it's almost okay, and the two boys have a fine energy in their scenes together.
The sheer horror of what lies in store for us is only apparent when the Intermission word appears. "Uh-oh. We're only halfway through?" Gulp.
The second half begins with Akshay Kumar studying at Trinity College, Oxford. (Go on, read that line a few times over.) Chitrangda plays his Economics teacher, one who quizzes him in strip-pokerly fashion.
Meanwhile, Kumar encounters a snotty British professor who sneers at India and its uncivilized populace, which is when Kumar asks him what email address he uses. The man says Hotmail (in this alternate universe 2009, where Iron Man 2 is already out) and Kumar mentions Sabeer Bhatia, a minute before he brings up Aryabhatta and the zero. Clearly, keeping a straight face during scenes like these is what earns Kumar his fat paychecks.
Meanwhile, over in London where John's camping in Deepika's backyard in a caravan evidently borrowed from Aqua's Barbie Girl video, there is much tomfoolery involving the refreshing (if one-note) Omi Vaidya.
Then John confronts Deepika who, justifiably sore about catching him in the act, sounds him out about how he'd feel if a gallery of 50 men were drooling over a half-naked her. John stops in his tracks, but this is not a question the film plans to deal with. John mentions Akshay's nephew, Deepika's face falls, and having thus found himself a ludicrous moral high horse, John rides away happily. From this point on, the apologies have to come from her.
Or from you, young Mr Dhawan. Walk away from this disaster and try harder next time. (Is it okay if we don't hold our breath just yet?)
Rediff Rating: