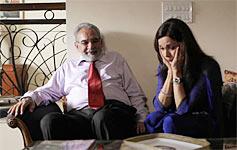 Delhi In A Day is quite entertaining, and a wonderful alternative to the blockbuster of the month Ek Tha Tiger, writes Aseem Chhabra.

Early morning in Delhi and the Bhatia family is still asleep. That does not mean there is no activity going on in the household. The family's four household helps and two drivers are already awake and running the household machinery, so that their employers can have a smooth morning.

But then disaster strikes. The air-conditioner in the master bedroom breaks down and it rudely wakes up Kalpana Bhatia (Lilette Dubey, who was born to play the upper class Punjabi memsahib from Delhi). And as memsahibs like her do even when there is minor sense of discomfort, she starts to yell out for her domestic help -- Raghu, Udai Singh, Chottu and Rohini.

Welcome to the world created by filmmaker Prashant Nair in his directorial debut, Delhi In A Day -- a sweet, charming, at times, sad and upsetting, but always real portrayal of life in an upper class Indian household (I do not think the story is particular to Delhi or to Punjabis). This world is sometimes observed through the eyes of an outsider -- a young British guest, Jasper (Lee Williams). 

Last week's humongous hit Ek Tha Tiger continues to control the theatrical space across India. But a remarkable effort by the good people at PVR, who have recently started supporting small indie films, gives an option for people to see alternative cinema. Delhi in a Day is that alternative option -- and a good one too, for this week.
Nair, a former IT entrepreneur who was raised in Europe, Africa and North America (his father was in Indian Foreign Service) and now makes his home in Berlin, is himself somewhat of an outsider. 
There is a perspective that Nair brings to the film -- with a tad bit of Gosford Park and Downtown Abbey, mixed with the upstairs-downstairs tones of Mira Nair's (no relation of Prashant Nair) Monsoon Wedding. But with his one foot in India, a young filmmaker like Nair possesses a certain perspective and way of looking at situations that often Indians living in the country may not even notice, or deem to be significant. 
Bollywood has often featured domestic help, but either they are sweet, noble, kind souls, featured in films like those by Hrishikesh Mukherjee, or they are bumbling idiots. 
Dilip Mehta's Cooking With Stella played on another stereotype, showing the domestic help (and their family, friends) to be cheats, out to fool their gullible expat employers.
But Delhi in a Day gives a human face to the film's domestic help -- their struggles, hopes, aspirations and fears, especially when they are suspected of a crime. They understand their status in society, they are willing to take risks, but they also take pride in their honesty. They may have shades of gray, they certainly ridicule their employers behind their back, but they are mostly upright people.
The interaction between the domestic help and the employers -- the Bhatias (and especially Kalpana), over what appears to be a major crisis, is the main focus of Nair's film. But to that, he adds a healthy dose of humour, making us laugh at and with the Bhatias. 
Kulbhushan Kharbanda playing the head of the family is as Delhi-Punjabi character as there can be, but without the clichés and the stereotype tones. Kharbanda has been acting for so long, but he always brings the right amount of dignity to his characters. The same goes for Dubey, who has also been on stage and now films for over three decades.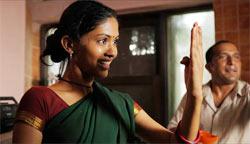 The real star of Delhi in a Day is the young actress Anjali Patil, who uses her beautiful eyes and smile to give a lot of warmth to Rohini -- the only female domestic help in the Bhatia household. It is certainly not surprising to see Williams' Jasper smitten by Rohini's beauty. But the class differences and Jasper's abrupt, short visit does not take the attraction beyond occasional parting glances.
Nair adds another very gifted actor to his ensemble cast -- Victor Banerjee, playing the role of a reclusive grandfather. But Banerjee's character is never allowed to grow and the film could have worked fine without him. 
For a first-time filmmaker, Nair seems to have good control on the project.
Delhi in a Day has a clean, tight professional feel to it. Korean cinematographer Eun-ah Lee, ably captures the light and shades of Delhi, as well as the quietude and the madness of a crowded city. Composer Mathias Duplessy (also known for his work on another small Indian film, Bombay Summer) adds soulful notes to the film's background score and a haunting closing song.
Rediff Rating: