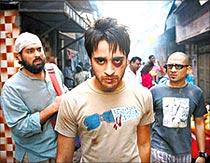 Aseem Chhabra feels that Delhi Belly will appeal hugely to some audiences and not much to others, proving that the age of the pan-India audience is dead. Post YOUR reviews here!

Many years ago an American Jewish woman expressed surprise when I told her that I had seen Woody Allen's Annie Hall as a teenager in India and I had found the film very funny. She was baffled how I could have gotten the New York-specific humour in the Oscar-winning film such as in the scene when Diane Keaton's Annie orders pastrami on white bread with mayonnaise. I have since learned it is a Jewish tradition that pastrami should only be eaten on rye bread with mustard.
I have also learned that humour is relative, culture and age specific. Humour can be intelligent. As I have lived in New York, I have learned to admire and see the subtle nuances in Allen's films. And humour can be smart.  I find Michael Winterbottom's new film The Trip exceptionally clever and funny, albeit laced with sadness. Slapstick humour works with large audiences, though usually not with me.  But then I always laugh out loud in theatres when characters bump into walls (Fairuza Balk in Cameron Crowe's Almost Famous), or into electric poles (the overweight Cyrus Broacha in Krishna D K's and Raj Nidimoru's 99), or -- my favourite -- when Michael Palin's Ken in A Fish Called Wanda accidentally kills the three Yorkshire terriers one by one!
I know humour can be crass, crude, in poor taste, and yet the Golmaal and Dhamaal franchises continue to make a lot of money.  I have learned to accept the fact that in this world of ours some people can laugh and connect with Allen's lost, insecure souls as they meander through western cities (or lately in Europe), while others can thoroughly enjoy the loud-mouth over-the-top characters played by Arshad Warsi, Javed Jaffrey and Riteish Deshmukh in Double Dhamaal!  It is all humour -- all relative and subjective!
Which brings me to this week's new release, Delhi Belly, the third in a line of  'independent' films produced by Aamir Khan's production house (the first two being Peepli Live and Dhobi Ghat).
Delhi Belly is a slick, madly crazy production that is mostly funny -- although the humour will more likely appeal to the 20-something and perhaps 30-something public school educated, English speaking, big city audience that the film targets through its previews, videos and playful songs (from a spoof on K L Saigal's voice, to one that may or may not allude to a curse word).  But I know for sure that my mother and just about everyone of her generation will be totally turned off watching Delhi Belly.
Delhi Belly is not at all in the same territory as Double Dhamaal.  Its success -- and I hope the film works at the box office -- will make it clear that the idea of the pan-India audience is dead.  There are many Indias watching many different cinemas. There is the India that follows Bhojpuri films, while another watches Punjabi fare with Gurdas Mann and Jimmy Shergill.  There is an India that hugely worships Rajnikanth and another that totally rejects his work. Endhiran, dubbed in Hindi as Robot, was a box office disaster in North India. 
There is an India that will appreciate Delhi Belly, and I credit the always astute Aamir Khan for understanding that fact.  Khan put his money behind a project like Peepli Live, written by two unknown writers from Delhi -- Anusha Rizvi and Mahmood Farooqui.  This time also he has taken the risk of investing in a fresh script by a young unknown Los Angeles-based scriptwriter Akshat Varma.  Needless to say the risk was worth taking.
Delhi Belly is an ensemble piece with three male roommates, Tashi (Imran Khan), Nitin (Kunaal Roy Kapur) and Arup (Vir Das), and two almost wacky women in Tashi's life -- his rich fiancée Sonia (Shenaz Treasury) and a free-spirited colleague Menaka (Poorna Jagannath). There's a series of coincidences and accidental exchanges. A bag containing some very expensive diamonds gets mixed up with another carrying a stool sample (yes, one character in the film has a case of Delhi belly after eating tandoori chicken from a street vendor, and yes, the film has one very gross shot of a yucky case of diarrhoea). Toss that up with a handful of moronic, yet sometimes cruel mobsters, a Tarantinoesque shoot-out straight from the climax scene in the 1993 classic comic thriller True Romance, and even homage to my favourite television sit-com Seinfeld, and you get Delhi Belly. Well mostly!
The film has some really clever writing and is ably director by Abhinay Deo who seems to be having a blast making the film with his ensemble actors.  But what appears smart and fresh also starts to get a bit tiresome in the second half -- especially the toilet humour and loud crude sounds of a character passing gas.  Such humour sometimes works in the Farrelly Brothers' films -- from Me, Myself and Irene to Hall Pass and also in the Harold and Kumar franchise. But this is new territory for Indian cinema.  Perhaps it will work in Delhi Belly for some people because the film is mostly in English, but peppered with a touch of Hindi.  I did have a problem with the use of what to me is the crudest word in the Hindi language -- the one that describes human faeces.  But that is a personal issue that I need to get over.
The five main actors seem very comfortable acting in English, playing likeable goofy characters, unlike the Bollywood stars of another generation, such as Salman Khan and Aishwarya Rai, who get so stiff acting in English.  Imran Khan is a pleasant surprise as he sheds his sappy Bollywood lover-boy performances for a definitely more intelligently carved out character. Jagannathan and Treasury (both currently living in New York) provide fun quirky touches to Khan's more straight-laced personality.
What the film fails to do is to capture the ethos and the spirit of Delhi. Delhi Belly could have been set just about anywhere in India.  Despite many outdoor shots of India's crowded capital city, there is practically no Delhi in the film's characters.  For that one has to revisit Habib Faisal's two remarkable scripts -- Do Dooni Chaar and Band Baaja Baaraat.
Finally a word about the film's much talked about disco inspired item number by Aamir Khan. That item number appears at the end of the film.  Until then Khan has had no presence in the film. The song and the dance -- a spoof and also homage to the days of Bappi Lahiri and Mithun Chakraborty -- is fun to watch.  Khan is hilarious. But Khan being the star he is, this one song overshadows everything we have seen in the film. We almost forget Abhinay Deo's film and his likeable ensemble cast.  So, while it is cool, the item number is also a disservice to Delhi Belly.

Rediff Rating: