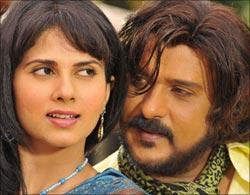 Srikanth Srinivasa feels Crazy Loka, directed by Kavitha Lankesh, is a fun-filled youthful film for the college crowds

Director Kavitha Lankesh has changed tracks in
Crazy Loka,
a youthful commercial film unlike the serious art house cinema she has made in the past.
Basavaraj Kattimane (Ravichandran) is a not very well educated businessman, who is challenged to go back to college and get educated. He joins college much to the chagrin of his college-going son Abhay (Surya). Father and son go to the same college but agree not to interfere in each other's affairs and not to disclose their relationship.
Basavaraj's secretary Hairhara (Aswath Ninasam) accompanies him to college and takes up accommodation in a hostel even as he looks after the business attends classes and becomes a sounding board for all the youngsters who are in need of counselling or advice.
Basavaraj disdains love and romantic relationships until he meets Sarala (Daisy Bopanna), a psychology lecturer and gets close to her. The college principal Ganapathi (Avinash), an eligible bachelor, is always ogling Sarala and that forms the love triangle.
Meanwhile, Chandini (Harshika Poonacha)
is madly in love with Abhay, who refuses to acknowledge her. Basavaraj helps her find her love without disclosing his relationship to Abhay.
Ganapathi is determined to fix his rival and ensure he is not a success in college, while at the same time getting Sarala to reciprocate his love.
Whether he succeeds or not, whether Abhay and Chandini get together, and what becomes of Sarala and Basavaraj forms the remaining part of the story.
It is heartening to see Ravichandran in different roles in his last few outings. Daisy Bopanna comes as a whiff of fresh air. Harshika plays her age with aplomb.
Surya, though a new find, could have been given more meat in his role. Avinash wins your heart with his absent-minded behaviour.
Bharathi Vishnuvardhan evokes a few laughs not only with her dialogues but with her atrocious make-up. Ramya makes a special appearance in a number.
Manikanth Kadri's music is average except for Daisy's song. A C Mahendran's camera work is adequate.
Kavitha Lankesh has made a youthful film and has tried to include a message to the youth along with entertainment.
Rediff Rating: