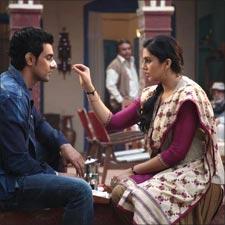 Luv Shuv Tey Chicken Khurana is a lovely story, with plenty of Punjab ka tadka, writes Rohit Khilnani.
Among the clutter of unwatchable movies at the cinemas, there is usually one charming film that makes it worth the price of the ticket.
Luv Shuv Tey Chicken Khurana
is a slice of life from north India like
Khosla Ka Ghosla
and
Band Baja Baraat
were. It follows a similar storytelling line with plenty of Punjab
ka tadka
.
LSTCK
is a lovely story of finding the secret of a popular dish called Chicken Khurana that was only available at a
dhaba
run by the Khurana family.
No one seems to know how to make Chicken Khurana any more because grandpa, who cooked it once, is now unwell and has forgotten the recipe.
The movie starts with Omi Khurana (Kunal Kapoor) living the good life in London. That comes to an end when he owes money to a UK-based gangster, also an Indian export. Said gangster packs him off back to Punjab to bring back the money he owes him.
Omi returns home to find that Darji (Vinod Nagpal), who he stole money from to go to London, is unwell. The rest of the family that he walked out on, welcome him with open arms.
Chasing his London dream, Omi had also ditched his childhood sweetheart, Harman (Huma Qureshi) who is now going to marry his cousin.
The humour is provided by Mamaji (Rajesh Sharma) who lives with the Khurana family because he has no desire to work or do anything in life. Free food and flirting with the village women keep Mamaji going.
While Omi and Harman's coming together or not forms one track, the fortunes of the popular chicken dish, forms another.
Director Sameer Sharma, making his first film, gets almost everything right. The film has a heart and it's in the right place.
Kunal Kapoor's unenergetic talking style works well in this village set up. Huma Qureshi looks right for the role and she delivers a wonderful performance.
The one to watch out for here is Mamaji, Rajesh Sharma. Once you see him play this role you can't imagine anyone else doing it as well.
Amit Trivedi's music is good but the songs are not a perfect match for the film.
Sumit Batheja's writing and Sameer Sharma's direction is a brilliant combination. The detailing in the setting of the film and focus on each of the characters is well crafted.
The dialogues are intelligently written and the humour is witty.
Full marks to the director for getting the best out of all the actors. 
Though the duration is just around two hours and 15 minutes, the film seems to drag and slow down in a few places.
It's not every day that Bollywood churns out a tasty dish with the right ingredients. We suggest you taste it!
Rediff Rating: