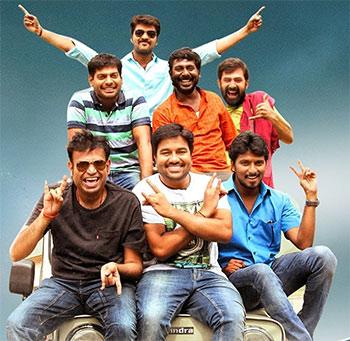 This refreshingly hilarious film should not be missed, says S Saraswathi.
The 2007-released sports comedy Chennai 600028 was one of director Venkat Prabhu's biggest hits. Since then, he has delivered many commercial entertainers with big stars, but none could match the refreshing simplicity of his first film.
Based on street cricket and friendship, with a script that was uncomplicated and a cast that was unknown, Prabhu made his debut film work for him. Now, nearly a decade later, he returns with a worthy sequel to his debut.
Review Chennai 600028 II: Second Innings opens with most of the characters in the original now married and settled with children. Karthik (Shiva) is married to his girlfriend Selvi (Vijaylakshmi), so are Pazhani (Nithin Sathya) and Gopi (Vijay Vasanth). Raghu (Jai) is in love and is attempting to convince his girlfriend Anu's (Sana Althaf) parents to accept him.
Seenu (Premji), who had previously owned the tiny neighbourhood grocery store, is now the proud owner of a supermarket. He is single and keeps the group together with his never-ending booze parties, antagonizing the wives who blame him for their husbands's wayward ways.
Despite the frequent fights at home, the group is still in touch and deeply care about each other.
Meanwhile Raghu's marriage is fixed. Though reluctant initially, Anu's parents want her to be happy. Everyone is invited to their village, where the wedding celebrations are slated to go on for a week.
It is in this picturesque village in Theni district that the friends are thrown back into their former life, when everything revolved around cricket and the beautiful bond of friendship. A midnight bachelor's party goes horribly wrong with Raghu found in a compromising position with one of the dancers.
The wedding is called off. How this entire complicated mess is sorted out with a series of very interesting nail-biting cricket matches forms the rest of the story.
The film is a laugh riot from start to finish, with the actors seeming to enjoy the film as much as the audience. Every scene is reflective of the wonderful camaraderie they share, with none trying to overshadow the other.
Shiva and his wacky sense of humour, Vaibhav and his false bravado, the earnest Vijay Vasanth and the eccentric Premji -- everyone, and everything, keeps the audience in splits.
The director does seem to be prejudiced against women; his female characters are made out to be shrews and men drink excessively, but even the most serious scenes end up hysterically funny, taking away the sting.
Director Venkat Prabhu's Chennai 600028 II: Second Innings, with its refreshingly hilarious script, is a thoroughly enjoyable fare that is not to be missed.
Rediff Rating: