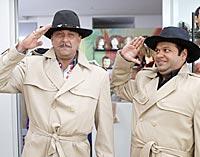 Ankur Pathak feels Chatur Singh Two Star is painful to sit through. Post YOUR reviews here!
The funniest and the most incredible part of
Chatur Singh 2 Star
-- a film, which I can confirm is a second hand version of
The Pink Panther
is -- that the makers felt they could actually pull off the ambitious slapstick. Bravo!
For one,
The Pink Panther
is a moronically unexciting film to steal inspiration from. Whatever little the inept franchise could manage to achieve, it deservingly should be credited to Peter Sellers -- who infused everything that was worthy in the films. Steve Martin just limped through it, and eventually collapsed -- with both films starring him being the unfunniest attempts ever made at travesty.
But it has one Bollywood film, against which it can stand tall and call itself a finely-crafted product. 
Chatur Singh.
.. makes
Pink Panther
resemble the
Godfather
of the slapstick variety. There are times in the film that make it so bad that it is good.
Sanjay Dutt plays the title character that is indisputably the most incompetent and dim-witted cop there is. To demonstrate this, he suspects any random place he inhabits, and goes on violently damaging property, before declaring the area 'secure'. He is aided by an even more annoying sidekick -- Pappu Panthar -- who when confused what to emote, picks his favorite expression, selected at random, and sticks to it.
This is one of the many grave concerns of
Chatur Singh
, the film.
The screen is cluttered with needless artistes and they have no clue what they're doing in the film! One such miserable victim is Ameesha Patel. Her expressions are dumb and superficial. It appears as if the director was on a vacation and the supporting cast -- Anupam Kher, Murli Sharma, Suresh Menon, Rati Agnihotri are on an all-expense paid trip, indulging in their ultimate fancies, one by one. Awful scripts pass off as non-issues due to steady direction at times -- like in the case of Aneez Bazmee and David Dhavan films. But bad direction, with a bad script, is bad news.
Perhaps that explains the lack of a coherent narrative structure. The camera randomly pans on anything as if it is on auto-pilot. Before you can process information, a new song covers the
screen, probably to keep the viewer from trying to make sense of it all.
The plot is about Ameesha Patel's
jijajee
getting kidnapped. He is kidnapped so goons can blackmail her into bringing this corrupt politico (a scary Gulshan Grover) to the balcony. So, she dresses seductively in a magenta saree and matching lipstick and Gulshan Grover dances his way to the gallery and --
Dhiskyaon
-- he is shot. A haggard-looking Sanjay Dutt , who is also reminiscent of a petty criminal from a previous century, is held accountable since he was to protect the dead. And Ameesha Patel -- the sole eyewitness is arrested! Now, Chatur Singh takes it on himself to solve the mystery, which later on even has gang-wars, war-within-gangs and lotsa diamonds (500 crore
ke heerey
!). How his consistent ludicrousness ultimately gets him to the root of the crime is what the film is mostly telling.
The film is laced with dialogues bearing vulgar sexual overtones and at times, racist too. Everything in the film is, seemingly, improvised on-location. That means, Rumi Jaffery either didn't write a screenplay at all, or if he did, his screenplay wasn't taken in account OR, if this is what he has really written, he better look for alternative careers.
In one scene, Sanjay Dutt knocks the hotel door and when Suresh Menon does something gibberish, Dutt pushes the door. Then, he literally jogs inside, hits the window and goes crashing down.
Here, I bet, even a bald man will wish he had hair to pull out.
But wait there's more. There is Shakti Kapoor playing, what else, but a goonda.
Every actor in the film acts badly, yet surpassing everyone else is Ameesha Patel. Sanjay Dutt's antiques make you believe him to be a B-grade duplicate, certainly not the actor you adored in
Munnabhai
or sympathized with in
Vaastav
.
To put it mildly,
Chatur Singh Two Star
is the worst instance of Bollywood attempting slapstick with ostensibly A-grade outlook. What you get is a headache-inducing recipe. Satish Kaushik plays a nut-cracker who becomes a cab (yes, a CAB), a garment-shop etc. (No, I'm NOT joking).
He also tells people jokes like, "
Ye Chandni Chowk hai
".
Wo dekho Chandni
(points at a Sri Devi poster) or "
Ye Dekho Chalk
" (the Blackboard one). You get it.
Later on, a song goes.. .."I Sing, You Sing, We all Sing, Chatur Singh"
Sorry, Inspector Chatur Singh. You leave me with no option but to snatch away even the self-awarded two stars.
Rediff Rating: No Stars