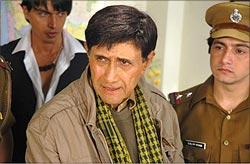 Preeti Arora writes Chargesheet is Dev Anand's show all the way. Post YOUR reviews here.

If Manoj Kumar can claim the title of Mr Bharat, then Dev Anand is the eternal do-gooder. Especially in the films he directed whether it was Jewel Thief or Des Pardes, Dev Anand has always cast himself as a person with high ideals, untarnished moral values and the willpower to take on an infinite number of enemies.

Through all this turmoil he always emerged triumphant, and with barely a bruise on his charming face. As the 'evergreen hero,' he emerged unscathed through most action sequences.

Three decades later, things haven't changed much.
Dev Anand still sees himself in a similar mould. Writing and directing movies. For those who felt the director in him would give younger actors a chance to dominate on screen, be warned this film is all about Dev Anand, Dev Anand and still more Dev Anand. In case you're not his admirer, you can abandon this review here itself. Or else keep reading.

Naseruddin Shah (Sultanbhai) is 'the' underworld don safely ensconced in his Dubai apartment but controls the city of Mumbai and more particularly Bollywood via his numerous mobile phones. The current love of his life Maria aspires to become a Bollywood heroine.
A few calls are made, promises of vast sums of money and Maria has landed a role with a leading director. Jackie Shroff (Mahesh) dumps his mistress Divya Dutta (Minnie) and begins shooting the film with Maria.

The film is being shot entirely in Panchgani and the entire crew has been accommodated in a guest house. Divya Dutta turns up there with the intention of creating problems for Jackie Shroff.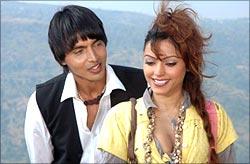 Enter Gambir Singh (a high ranking police officer who is now retired) also known as Dev Anand. And he is looking for Divya Dutta. Except he calls her Reema. And he's ready to kill her. Will he?

Either this film was scripted in the 1980s or Dev Anand has opted to set his story in an ethos he's comfortable with. So Chargesheet is all about the ubiquitous underworld which has infiltrated the police force and the ministry and the film industry. The omnipresent bhais. And the supari given to bump off any person likely to become an obstruction.

Even honest hardworking servants have been corrupted by the lure of big money. In this ethos of greed and corruption, it's entirely up to Gambhir Singh. Single-handedly he unravels the layers of corruption and avarice to reveal the truth.

Dressed in his unique style, with bright-coloured mufflers and scarves, Dev Anand sports denim jackets and suede waistcoats last seen on screen in Om Shanti Om. But it's not just the wardrobe, the locations or the choreography which has the retro look. It's the camera angles, the lighting and the stereotypical characters which belong to another era. Chargesheet spoofs Bollywood without intending to and generates huge laughs in the process.

Dons generally evoke emotions which range from mere loathing to sheer hatred. But Naseer as the dreaded Sultanbhai prefers keeping his mistress happy to wielding the gun. Delivering his dialogues in a droll comical manner, the character itself is so clichéd it turns into a parody.

Jackie Shroff as the hit film director Mahesh is perfect for his role. He's gained many kilos since we last saw him on screen and the puffiness below his eyes gives him a haggard, dissipated appearance. It's a small role with no scope to perform.

Maria reveals enough skin to keep the front benchers titillated. Cham Cham the gypsy girl who strums a guitar valiantly tries to copy Zeenat Aman, knotted blouses et al. Doesn't work as she lacks the charisma. 

It's Dev Anand's show from the first reel to the last. And every time he pulls out his hip-flask saying "Ramu, zara meri brandy laana" the audience is amused. Some are clapping. On a Friday morning when many shows are cancelled at multiplexes due to lack of an audience, there are people of all ages eager to watch Dev Anand in his latest avatar.

And at 88, that is a feat in itself.

Rediff Rating: