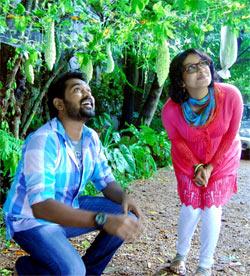 Paresh C Palicha says debutante director Jimson Joy tries to combine an old-style narrative with so-called 'new gen' cinema in Bicycle Thieves, but fails to get it right.

Two steps forward one step backward is what you feel after watching Bicycle Thieves directed by newcomer Jis Joy.

It begins with an orphaned child Chacko narrating his Dickensian life story of debt-ridden parents committing suicide and being raised by his evil uncle and aunt, who treat him worse than a servant.

One night, after watching the 1990 film Kalikkalam, Chacko runs away with his cousin's new cycle and joins the gang of Bose Prakash (Salim Kumar).

The gang specialises in robbing cycles. There are two other kids with him, Ramesh and Rahim.

The grown up versions of the kids are played by Asif Ali (Chacko), Saiju Kurup (Ramesh) and Bineesh Kodiyeri (Rahim). They become more ambitious and plan to loot a rich businessman on the highway.

After the theft, Ramesh runs away with the bounty. The others accuse Chacko of being an accomplice of Ramesh. The gang splits due to this misunderstanding.

From here on it becomes Chacko's
story; the other three just vanish into thin air.
Chacko continues his thieving activities. Enter Meera (Aparna Gopinath), who eventually becomes his love interest.
Kashi (Vijay Babu), an alcoholic criminal lawyer employs Chacko as part-time chauffeur. KPAC Lalitha plays the owner of the house where Meera is a paying guest, and is the mother figure. We wonder where all this is headed as there is no connection between the initial build up and where the proceedings stand at the end of the first half. By the end of the film, your head is reeling connecting all the plot points.
Asif Ali does his best as the melancholic orphan who opens up when he finds love in people around him. But he needed a stronger storyline to make his efforts pay.
Another actor we feel sorry for is Vijay Babu, who gets out of his comfort zone to play a loud mouthed lawyer.
The rest of the cast, including seasoned campaigners KPAC Lalitha and Siddique, look clueless in a film that seems to have gone haywire from the first scene itself.
The director tries to combine an old-style narrative with so-called 'new gen' cinema, and falls somewhere in between. The film is neither here nor there.
Rediff Rating: