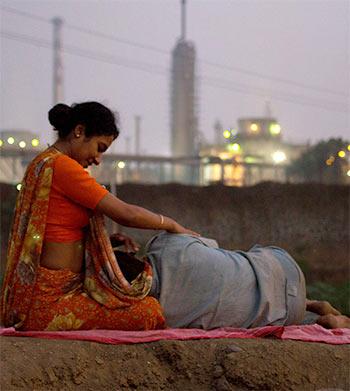 The images of those who suffered in the industrial disaster will stay with you for quite some time, says Prasanna D Zore.
Director Ravi Kumar's Bhopal: A Prayer For Rain was in the cans for almost four years before a distributor took up the project.
Now that it has been released in theatres, the story of the victims of that horrifying industrial disaster will finally be heard.

Bhopal: A Prayer For Rain will be released 30 years and two days to the day since one of the worst man-made industrial accidents took place in Bhopal on December 3, 1984, caused by the leakage of lethal chemicals, phosgene and methyl isocyanate (MIC) used in a pesticides plant.

Union Carbide (now taken over by Dow Chemicals), the multinational company from whose plant the lethal chemicals leaked and engulfed the unsuspecting city, killing thousands and maiming lakhs for life as it wafted through that chilly December night air, is at the centre of Bhopal: A Prayer For Rain.

The camera pans through the innards of the controversial company plant -- now almost a ghostly place -- in Bhopal, the capital of Madhya Pradesh state.
The narrative builds up, slowly winding through the lives of the people who worked at the plant, the people who were hired to ensure the plant's safety but failed miserably, and the top management that keeps cutting costs, compromising the safety of not only its workers but an entire city.

Anil Chandel's cinematography brings to life the dirt and squalor of the life of the slum-dwellers, who lived around the plant and bore the brunt of the poison gas and are still fighting its after-effects.
Chandel also marks the immediate aftermath of the disaster -- dead bodies strewn across railway tracks and hospital corridors, people jumping into polluted water to alleviate the impact of the gas but suffocating to death, children and aged people vomiting blood, the doctors and the medical staff at the government hospital struggling to cope with the onslaught of an entire city knocking at their doors.
The script has been written by Ravi Kumar and David Brooks (who has played the character of the wily Shane in the film).
The film is a narration of events from the perspective of Dilip (Rajpal Yadav), a rickshaw-driver who works in the plant.
Kal Penn superbly plays the indomitable journalist Rajkumar Keswani, whose reports blew the lid off the horrors that were unfolding inside the pesticides plant. But he was ignored by the politicians of the day and the company's top management.
Martin Sheen plays Warren Anderson, the CEO and chairman of Union Carbide who after smartly avoiding facing the law in the Indian courts, breathed his last on November 29 this year.
Manoj Joshi plays Dr Chandra, who along with his limited staff and resources, saved as many lives as he possibly could.

The film makes no compromises with the truth and refuses to protect those guilty of the disaster.

It exposes the lethal politico-corporate nexus, corporate greed for profits by cutting costs and the propaganda that the gas MIC was safe by all the vested interests.

Bhopal: A Prayer For Rain, is an honest yet haunting film. The images of those who suffered will stay with you for quite some time.

Rediff Rating: