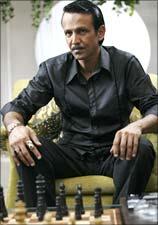 Preeti Arora feels Bhindi Bazaar Inc doesn't fit into gangster movie category at all. Post YOUR reviews here!

Bollywood has had its share of gangster films. Some have been well conceptualised, neatly scripted and well put together. Think Satya and Vaastav.

Ankush Bhatt's debut, Bhindi Bazaar Inc definitely doesn't fit into that category.
 
The film has all the right ingredients of a gangster movie that audiences are familiar with (courtesy Ram Gopal Varma): Sun-tanned, unshaven goons, corrupt cops, fanatic mob bosses dressed in the colours of their respective religions, testosterone-induced roadside violence and an ample amount of Hindi gallis. The setting is Mumbai's gritty, grimy, underbelly, complete with beedi-smoking gangsters, dance bars and prostituting eunuchs. Kudos to the director for getting this right at least.
 
When it comes to the plot, though, Bhindi Bazaar meanders aimlessly in so many directions, and is fraught with so many undeveloped subplots, that at the end of it, one feels like offering the filmmaker a free-of-cost crash course in the craft of making crime thrillers.
 
The film kicks off with a simple premise that leads to another relatively simple premise that leads to another premise that you don't much care for, which leads to something you wish would just stop. To take things further down complexity road, the events in the narrative are reflected in a game of chess between newcomer Gautam Sharma and Kay Kay Menon.
 
In another example of deficient storytelling, the only hint we ever get of the identity of Kay Kay's character is a dialogue that goes something like: "Usse dono area ka mamu bana do".
This line will make more sense after watching the film, but who the hell Kay Kay is playing anyway will continue to be a puzzle. Utilising a single complete game of chess as a metaphor for a story told in flashback is, admittedly, a beautiful concept, but it would have been a lot more beautiful with some competent editing.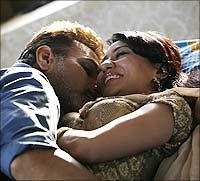 Behind every successful gangster is a lot of sex. At least that's what Mr Director here seems to believe. The unnecessary lovemaking (or is that too subtle a word?) scenes contain a shocking amount of sleaze, culminating in Caterina Lopez's item number that will make even Malaika Arora Khan's pelvic thrusts seem 'aesthetic' and 'respectable'.
The acting, however, isn't bad for the most part. Piyush Mishra and Pawan Malhotra, both veteran actors, pull off their roles of opposing mafia bosses with ease.
Prashant Narayanan is brilliant as Fateh, but will have to try his hand at a variety of other roles if the industry is to gauge his abilities.
Gautam Sharma, Shweta Verma and Vedita Pratap have nothing special to offer as actors while veteran Deepti Naval, and Shilpa Shukla of Chak De! fame are deprived of, at the script-level itself, any scope to utilise their talent.
 
The most unexpected (and annoying) of performances is probably that of one-time superstar Jackie Shroff playing a narcotics officer in yet another subplot which gets killed even before it can take off. Shroff stumbles into the frame, shabbily dressed and mouthing incoherent lines, and slows things down for both the film and the audience.
 
Ultimately, no part of the script ever matures into a full-fledged hook. There are moments when things seem to be looking up and it appears as if Bhindi Baazaar has finally found its footing. But it never does. All that is left eventually is a residue of aimless, incomplete bits.
 
Of course, there's nothing wrong with a movie that aims to root itself in multiple plotlines, but everyone isn't Quentin Tarantino at the end of the day. Even copying films such as Satya and Vaastav (which established the gangster genre) is an art. An important lesson for first-time film maker Ankush Bhatt.

Rediff Rating: