'Harshvardhan Kapoor will go on to become one of the finest Indian actors of this generation,' predicts Sreehari Nair.
'In Bhavesh Joshi, Kapoor treats the movie like a box and tries to break out of it.'
'It's magic to watch a young actor like Kapoor achieve intensity without overextending himself; he can hold a frame while merely being in it.'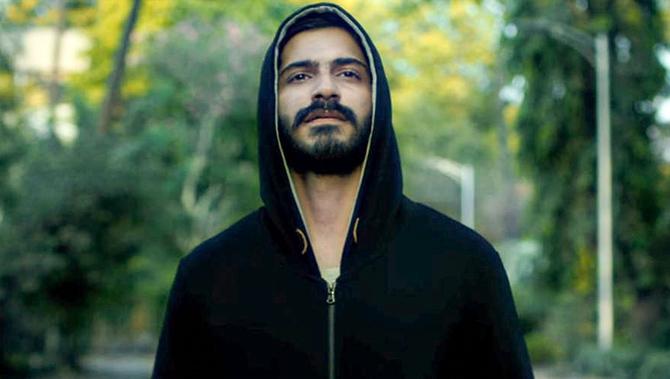 First up, a prophecy: Harshvardhan Kapoor will go on to become one of the finest Indian actors of this generation.
In Vikramaditya Motwane's Bhavesh Joshi, Kapoor treats the movie like a box and tries to break out of it. He pulls the picture behind him and transcends the soggy material.
It's magic to watch a young actor like Kapoor achieve intensity without overextending himself (there's no attempt to dominate the camera like, say, a Prithviraj Sukumaran); he can hold a frame while merely being in it.
As an actor, it takes tremendous self-assurance to let your inner calculations dictate the length of your scenes: and there is not a wasted pause in the man.
Every twitch on that face is felt.
There is a rhythm to the shaking of his head that precedes his every word. And even when he's openmouthed or slack-jawed, he is not a bore.
Motwane and his dialogue writers load Kapoor with self-conscious lines, but he transforms those using repetitions, stresses, and sometimes a random movement of his upper lip.
How ironic then that this sophisticated, economical performer -- who seems to instinctively understand how to make each frame he appears in, come alive -- is clubbed with a director whose standout feature is 'wasted frames.'
Even within my circle of cinephile friends, I have been a lone ranger on the subject of Vikramaditya Motwane: His films have no movement for me.
A work of art feels sluggish not when it's leisurely paced or when it has a thin storyline, but when it has very little to reveal.
Think about it: Ulysses can be summed up in not more than one line, but what marvelous things happen in its each line!
Motwane's sterile, unpopulated, flat sequences go on and on and on, with no denseness or buried wisdom to discover within them. And his sequences convey the same tension or dramatic point over and over again.
I wish I could say I loved Udaan; but that'd be like claiming to love a two-hour performance of 'mime' just to assert my cultural superiority.
Vikramaditya Motwane is sincere, but he makes me groan!
And Bhavesh Joshi feels like the pinnacle of Motwane's sincerity and perhaps also of his vacuity.
The movie is pitched as a story of three friends, of whom only one has a comprehensible point-of-view.
This dude happens to be Rajat (Ashish Verma), who affirms his clarity of thought by staying out of the fight-against-corruption game that his two friends, Sikander (Harshvardhan Kapoor) and Bhavesh (Priyanshu Painyuli) engage in.
With brown bags over their faces, Sikku and Bhavesh perform acts of vigilante justice, but we are never quite sure if they are true idealists or if they are play-acting idealism.
And Vikramaditya Motwane doesn't make it clear either (Motwane's sensibility, too, seems stuck somewhere between the wide-eyed transparency of a kid and the fully-formed sensibility of an adult artist).
This section is superfluous, but at least it flows.
The rest of Bhavesh Joshi is a series of standard superhero tropes, each broken into stretches of 15 minutes long, when just 2 minutes would have been enough.
Harshvardhan Kapoor trails a corrupt BMC officer for about 15 minutes and all that matters is the start and the end of his pursuit.
Kapoor is chased by the bad guys for 15 minutes and the centerpiece of that action is a big void.
15 minutes of karate training; 15 minutes of surveying wastelands; 15 minutes of the same flashback, with its power to haunt the lead character and deaden viewers.
If this movie ever comes on television, you can, at the start of every dramatic high-point, go set up your cook-top, hang your clothes out to dry, or doodle, and return at the end of 15 minutes, with no fear of having missed a thing.
And then there are the characters, each outlined to suit the conventions of the urban graphic novel genre -- there are shady policemen, an evil corporator, a minister who quotes from Greek mythology before landing his deadly punch -- but who when they are together, simply cancel each other out.
It's in the interweaving energy of its characters that a movie discovers its beat and Vikramaditya Motwane, I am afraid, cannot direct a scene containing three people without making the third person seem like a humanoid.
Watch out for how the extras in a Motwane film behave around the main character: It's as though their status as 'Extras' had been drilled into them.
Motwane has confessed to having two godfathers and while he assembles his crowds like Anurag Kashyap, he captures them like Sanjay Leela Bhansali.
There's a Chinatown-like Water Scandal at the centre of Bhavesh Joshi and here's what's odd about Vikramaditya Motwane's approach: He doesn't once animate this element that forms the central thrust of his movie.
I cannot think of a major director who would have told this story without a single shot of water (shots of pipelines don't quite do it) or the sound of water gushing by.
Everything is reduced to the level of verbal kamikaze, but without them subliminally connecting to a larger theme.
When Rajat composes hymns for his superhero friend Sikander, saying something to the effect of: 'This City was once his,' you don't even see the point -- because you're never shown what the city meant to Sikander in the first place.
The lawn-and-feet poetry in Udaan suffered from this very problem of being distanced from the movie's core: It never became a satisfactory reflection of the goings-on in the movie.
For me, personally, the true dramatic novelty of Bhavesh Joshi was the incident of Sikander betraying his friend in a fit on anger and becoming the reason for his death. And it's this arc of the story that's left totally unexplored.
I guess the primary difference between Superhero movies and real works of art is in their representation of violence and corruption.
Works of art are about human nature and they remind us that if any one of us is capable of something dirty, then every one of us is also capable of it.
In not touching strongly upon the aspect of Sikander's guilt, Motwane, in effect, fails to activate the kind of poetry that actually matters.
Amid the missed chances, there are a few gentle caresses that stay with you.
When Bhavesh Joshi, on the trail of the bad guys, jumps off a roof and down to the ground, he almost lands like Spiderman.
When Nishikant Kamath's politician finishes a grandiose speech about the death of a havaldar, a policeman who knows the real story behind the death, shows off his boredom and claps as if to dust his hands.
These are one-off charms in a movie that has only one sustained achievement.
And the reason why I hold Harshvardhan Kapoor's performance as Sikander in such high regard is because he's the only player here who suggests a charged subtext: Constantly seeming to be on the verge of saying or doing something more forceful, more uncontrolled, and more menacing than what the movie will allow him to.
The absence of subtext was my big problem with Anurag Kashyap's Mukkabaaz as well and viewing these two movies together, I now wonder if the political rage of Kashyap and his merry band have begun to eat away at their artistic generosity.
In movies such as Ugly, Haraamkhor, Hunterrr and Raman Raghav 2.0, what one felt was certain openness to human frailties.
Politically my viewpoint is a lot closer to Anurag Kashyap than to, say, a Vivek Agnihotri; but I also fear that in creating villainous prototypes out of every right-wing attitude, Kashyap and his band could be turning into ideologues themselves.
And the danger of an ideologue telling its story is evident in the many dramatic problems of Bhavesh Joshi.
In what is a running gag in the picture, the superhero is shown to never jump a traffic light, even when he's being chased by the bad guys. But that cutesy bit doesn't really mean much, because it's followed by our man riding his motorbike straight into a mall and then into a railway station, thereby endangering the lives of everyone inside.
If anything, Bhavesh Joshi proves right that maxim, unsaid but true: That Fixed Ideology, Self-righteousness and Superheroism run parallel to each other.
Rediff Rating: