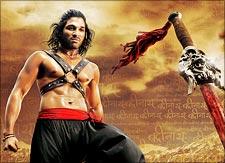 Radhika Rajamani feels Telugu film Badrinath doesn't have enough to engross the audiences. Post YOUR reviews here!
There were high expectations from
Badrinath
considering it was a Geeta Arts production, directed by V V Vinayak and starring Allu Arjun and Tamannaah.
Arjun was even sent abroad to learn martial arts and fights for this film whose picturesque Himalayan location was an added attraction. Yet despite the lavish sets by Anand Sai, that include a recreation of the famous Badrinath temple, the fine camera work of Ravi Varman, and high technical standards, the film falls short of expectation. The storyline is somewhat akin to that of Shakti which released a few months ago, with the same theme of a keeper safeguarding the temple.
The film begins with a narration of the destruction of temples in olden times and the necessity to safeguard them in modern times (the Akshardham temple attack no doubt being an example). Seers urge for a kshetrapalakudu (protector) and children are eager to get the required training. Bhishma Narayan (Prakash Raj) a trained martial arts teacher who lives in the Himalayas and runs a training school is chosen to train the kids.
Badri (Allu Arjun) is one of his best students and after the training, when the students are allotted to guard various temples, Badri naturally gets Badrinath and protects it with great enthusiasm and devotion to Lord Vishnu.
Badri shows off his fighting skills when the protector of Amarnath dies in an attack on the temple by terrorists. Bhishma Narayan orders Badri to vanquish all the attackers and Badri does so with nothing more deadly than a sword, pitted against guns and bullets. He wins, of course, without suffering so much as a scratch.
Into this scenario walks Alakananda (Tamannaah), an atheist, who is brought to the temple by her grandfather as her life is in danger. Since she lost her parents at a young age in this temple (they were both burnt accidentally when her mother's saree caught fire from the camphor and her father tried to save her), she loses faith in God. Badri brings back that faith, and as expected she falls in love with him.
But the path of true love is never smooth. Alakananda is kidnapped by her evil uncle Sarkar (Kelly Dorji) who wants her to marry his son. Moreover, Guru Bhishma wants Badri to be his successor and for that Badri must remain a bachelor. Alakananda, who wants to marry Badri, can only pray to the Lord for help.
The plot lacks originality. The love story is unconvincing and director Vinayak has allowed the action, cinematography, and other aspects to overshadow the romance so that by the second half, much of our interest has waned.
Songs and humour have been inserted in places where they are unwarranted. It's almost as if comedians Brahmanandam, M S Narayana Venu Madhav and Krishna Bhagawan had to be present in the movie and had to be given something to do. The songs prolong the film and add to the tedium. In fact the opening sequence of the song Omkareshwari Srihari Nagari is reminiscent of the famous drum dance in Chandralekha. The song Nachachavura starts off at a waterfall and then cuts to Europe after a few seconds! In one song, Allu Arjun is skiing towards the Badrinath temple under the snow!
The film has fundamentalist overtones, which seems to have escaped the censors. It has been given an A certificate on account of the violent action and skin show. It's quite alarming to hear a woman say, "I love rowdyism since childhood, so I married a rowdy."
The action sequences are well orchestrated by Peter Haynes, the sword fights being fluid and dexterous. The South East Asian influence is obvious in the design of the fights and Arjun does justice to the action sequences for which he has been trained.
Allu Arjun has a supple body, ideal for dancing and action. He breathed some life into the film through the action sequences. But what can he do if the script is lacklustre?
Tamannaah is lively and energetic but is made to show far more skin than is required -- particularly given the film's pious theme. Prakash Raj, for a change, is not a baddie, and turns in a good performance as Guru Bhishma Narayan. Kelly Dorjee plays his usual villain role. Rao Ramesh is wasted in a miniscule role.
M M Keeravani's music is just about okay. The sense of melody that one heard in some songs in Magadheera seems to be missing here though. Ravi Varman's camera work is excellent. He has been able to use the natural beauty of the Himalayan backdrop to advantage. The colourist, Loren White, has done a commendable job. Anand Sai should be congratulated for the almost authentic replica of the Badrinath temple; his sets are indeed praiseworthy.
Allu Aravind can take pride in the lavish production and high technical standards. But the plot and storyline are weak and the film does not engage one. The A certificate may also be a deterrent.  
Rediff Rating: