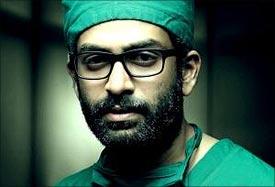 Prithviraj has given his career's best performance in Ayalum Njanum Thammil , says Paresh C Palicha.
Director Lal Jose seems to be immersed in the medical profession these days.
Close on the heels of the successful
Diamond Necklace
-- where a high-flying young oncologist living his Gulf Dream realises material extravagance is not everything in life -- comes
Ayalum Njanum Thammil
, a more in-depth look at the same subject.  
The film examines how a profession once considered noble is reduced to a money-minting machine, where rich parents can virtually buy a degree for their children and recoup their investment in a few years.
Prithviraj plays the lead role of Ravi Tharakan, who breezes through medical college with his friend Vivek (Narein) without really learning anything substantial. He has to do a two-year rural internship and is posted at a hospital run by a middle-aged doctor in a hill station.
The hospital is frequented by economically backward patients. Dr Samuel (Prathap Pothen), who runs the hospital, becomes Ravi's mentor in the profession and a father figure who creates a strong foundation for the young man's future.
The screenplay by
Bobby and Sanjay connects incidents and occurrences in a way that does not let the viewer relax or find a comfort zone.
It focuses on how the characters behave and react in peculiar situations, and explores the grey areas of the human psyche.
The camera lingers on the actors' faces a bit more than usual, to register an emotion and imprint it on the viewer's mind.  
The main focus is on Prithviraj and Prathap Pothen.
Prithviraj proves that he has come of age as an actor. He does not shy away from breaking down, sometimes or becoming teary-eyed.
In Ravi's confrontations with the police officer played by Kalabhavan Mani, we see that the hero can not only fail miserably but can also get quite vicious at times. 
Prathap Pothen, as the typical wise man with an ingenious solution for every problem, is unpredictable and lets his protege hog the attention.
Samvrutha Sunil as Ravi's love interest is rather muted; we feel she is just a doll Ravi would have cherished but does not mind losing in the long run.
Final words,
Ayalum Njanum Thammil
is yet another must watch film from director Lal Jose, and Prithviraj is an added bonus.
Rediff Rating: