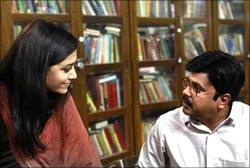 Malayalam film Arike dwells on the illusory emotion called love and, thankfully, does not arrive at a perfect conclusion, writes Paresh C Palicha.

Sometimes people crossing every hurdle for the sake of true love; other times couples break up their relationship because they are not compatible with each other or on the same wavelength. Love is a complex emotion and veteran director Shyamaprasad tries to deal with in his new Malayalam film Arike with Dileep, Samvrutha Sunil and Mamta Mohandas in the lead.

Shantanu (Dileep), a former professor, falls in love with one of his ex-students Kalpna (Samvrutha Sunil). It is a typical love story of the 'rich girl-poor boy' type further complicated by caste--she a Brahmin, he a non-Brahmin orphan. But, the treatment of the subject is shorn off any glitz.
The odd thing here is that the lovers do not mind the presence of Anuradha (Mamta Mohandas), a close friend of Kalpna, during their clandestine meetings, even though Anuradha herself feels uncomfortable. Kalpna even makes Anuradha read Shantanu's love letters to her and makes her write a reply to them.
The two friends are very different. Kalpna is chirpy and outgoing while Anuradha is the silent, brooding type who seems to be carrying the burden of the world on her shoulders.
Later we learn that Anuradha was cheated by a distant cousin (Vineeth) when she was a teenager. But Kalpna looks on her earlier relationships with indifference and laughs about them. Anuradha secretly roots for her friends' love story to be a success so she can regain her own faith in the concept of love.
It creates an intricate web of relationships as Shantanu sees the contrast between the two friends and thinks about it in depth. In fact, we find Anuradha becoming an indispensable bridge between the two lovers.
We may feel that the climax is a foregone conclusion, but how the director reaches there is the interesting aspect of this film. He shows how different people take on different situations and how it moulds their personalities, and how people with opposite traits stay happy together.
Dileep's low-key performance is a revelation (especially just coming after the 'over the top' Mayamohini). He has gone on record to say that his performance was moulded by the acting of Amol Palekar in the 1980s.
We can feel an undercurrent of friction between the characters of the two leading ladies but there is no comparison between them performance wise. Their characters run parallel throughout the film and they play them to perfection.
With Arike, director Shyamaprasad tries to look at love from a different perspective and shows what it can really mean for human beings.
Rediff Rating: