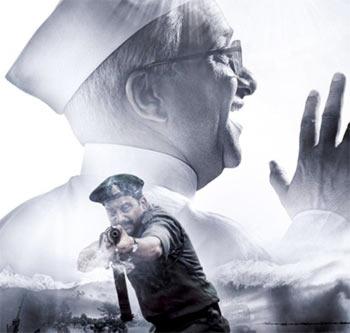 Actor-director Shashank Udapurkar's biopic Anna, is a sad linear sketch of the man who brought the Delhi establishment on its knees, feels Prasanna D Zore.
Kisan Baburao Hazare, aka Anna Hazare, became a national and international phenomenon in August 2011 when he inspired millions of aam aadmis to step out of their homes and demand a law that would act as a powerful tool against corruption in India.

Five years later, the nation has almost forgotten the man.

Actor-director Shashank Udapurkar's biopic, Anna, a linear sketch of a man who once brought the Delhi establishment to its knees, fails to inspire.

The 140-minute caricature elevates Anna to the level of a saint who, as an army jawan in a drunken state after the 'enemy' has been vanquished along the border, questions his fellow soldiers about 'who drew the boundaries on this earth?' Then, listening to his inner voice, he returns to his village, Ralegan Siddhi, and devote his life to social reform.

The film fails to capture the nuances that made Kisanlal Baburao Hazare, Anna.

It labours to chart out Anna's childhood, his youth as an army jawan, his transformation of Ralegan Siddhi from a water-parched village into an abundant oasis, a kind of a swarg that is free of alcoholics, community fights and poverty, but does not devote much attention to the aspects that made Anna Hazare a Gandhi-like personality.

The film, which comes five years after the nation rose to Anna's clarion call of a 'Corruption-Free India', is clearly past its sell-by date. Politicians of all hues banded together to pacify the non-violent satyagrahi and see that an anti-corruption law, The Lokpal and Lokayuktas Act, 2013, was enacted even as Anna Hazare's pet project of appointing a Jan Lokpal -- an independent body to investigate corruption at high places -- hangs in balance.

The film does not show the political drama that unfolded at the Ramlila maidan as well as inside Parliament on August 16-18, 2011, when Anna began his fast-unto-death. He ended it after both the houses of Parliament passed a resolution to accept his three-key demands of a Citizens' Charter, inclusion of the lowest and highest bureaucracy within the ambit of the Jan Lokpal Bill and setting up of Lokpals in all states with the power to investigate the corrupt in the government and bureaucracy.

Udapurkar's linear, non-nuanced sketch of this iconic figure makes sure that, just like the real life Anna, the reel-life Anna will not find an audience.

PS: Don't miss the climax if you wish to see a funny-looking Kiran Bedi, Arvind Kejriwal, Manish Sisodia and Shazia Ilmi, all part of the Anna brigade in those heady days, and now part of the nation's political discourse.
Rediff Rating: