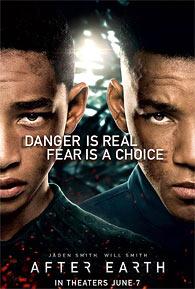 Watching After Earth isn't exactly a memory you'd like to cherish, writes Sonil Dedhia.

The tag line of director M Night Shyamalan's latest venture After Earth reads: 'Danger is real, Fear is a choice.'

Little do the unsuspecting viewers know that it is, in fact, a warning about the film itself, for one needs courage to sit through this post-apocalyptic action fare.

After delivering a string of bad films like The Village, Lady In The Water and The Happening over the past few years, Shyamalan's last film (as a director) The Last Airbender was probably his worst film and one expected him to learn from it.

Instead, he followed it up with After Earth.

Riddled with bad CGI (computer-generated images), clichéd storyline and feeble characterisation, the movie gives out the vibe of a video game.

The reason could be screenplay writer Gary Whitta, who was earlier an editor of a gaming magazine.

The year is 1000 A.E -- over a thousand years after humankind has abandoned earth.

Cypher is the head of a military unit called the Ranger Corps, whose job is to find and kill Ursas -- monstrous alien creatures that are blind but can smell fear. Funny enough, Cypher is entirely odour-free which makes it easy for him to kill the Ursas by stabbing them with his high tech weapon.

Enter Kitai (Jaden Smith), Cypher's young son, who desperately wants to be a part of the Ranger Corps team in order to avenge his older sister Senshi's (Zoe Kravitz) death, but is afraid
of telling his father about it.
Cypher decides to go on one last voyage before he hangs up his boots for retirement. His wife suggests that he take along their son so that they can bond.
But something goes horribly wrong during their journey and the spaceship is severely damaged in an asteroid belt t and they crash-land on Earth.
The accident kills everyone excpet Cypher and Kitai.
With Cypher lying injured in the spaceship, Kitai sets out alone to get their distress beacon and fight some creatures that have evolved to kill humans.
While one expects some amazing action sequences and an edge-of-the-seat thriller, all you get is an amateur story will a mild
Avatar
hangover.
Smith Sr co-wrote, who wrote the story and is also the co-producer of the film, provides a good platform fo rhis son to prove his mettle.
Unfortunately, Smith Jr appears to have lost both the charisma and acting ability he displayed in
The Karate Kid
remake (2010) and
The Pursuit of Happyness
(2006).
He delivers his dialogues ina fake accent, his listlessness only harms the performance.
Smith Sr too seems disinterested, arguably making this his worst role in the last decade.
On a positive note though, the film does have some visually impressive scenes -- the hide-and-seek game between Kitai and the alien creatures, the baboon chase and the climax fight between Kitai and Urusa -- but they are too few and few far between to save the film.
After Earth
is a boring film with too many flaws.
Rediff Rating: