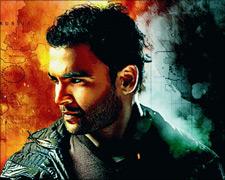 Patcy N thinks it's better to watch Mission Impossible 2 once again instead of watching Aazaan. Post YOUR reviews here!
'Mere sar par Allah ka haath hai aur iske sar par Allah ka haath hai,'
lead actor Sachiin Joshi mouths this dialogue in the film and one hopes that it holds true for the film
Aazaan
because only God can save this movie from becoming a dud at the box-office.
The film starts with a biological weapon, Ebola, attacking our country. It can kill people in 48 hours just like Chimera in
Mission Impossible 2
. One special agent, Aazaan Khan (Sachiin Joshi), is out on a mission to kill all the terrorists on the globe. Just like Tom Cruise in
MI2
.
In fact, the movie reminds one of
MI 2
most of the time, which could be its undoing because the comparison only shows it in very poor light. It is a badly made movie by Prashant Chadha though beautifully shot by Alex Fisher.
Sachiin Joshi is not the sort of actor who can carry a film on his shoulders. He can't emote, he does not look macho enough to save the entire world, he is unappealing and his biggest drawback is his voice, so he is given very little to say in the film. And you aren't likely to remember what he does or say because you will be in a state of shock.
Candice Boucher is wasted.
Who takes a Playboy model in a film and doesn't use her the way Playboy does? She appears for 10 minutes and behaves like a nutcase -- I've never met a sand artist but I'm sure they are not like her.
Ally Khan is a good actor wasted in a bad film in a small role. We are fed up with Ravi Kissen's chaste Hindi dialogues. Dalip Tahil has a 90 second role. Why am I telling you that all the actors have small roles? Isn't it obvious that if a father makes a film for his son, the son will be in every frame of the film while others will barely get a look-in? The love of Guthka King Jagdish Joshi, who's made the film for his son, is ably demonstrated throughout the movie.
Some stunts are good, but they are not original, and once again they remind one of
MI 2
and
Transporter
.
The amount of money spent on this movie could have bought a good actor, a good story writer and a very good director. Prashant Chadha cannot create another
Aap Ka Surroor
, which owed quite a bit of its success to Himesh whose fans flocked to see his first film. Sachiin does not have anything other than money. May be he should pay people to come and watch his film.
This film is one jerky ride as it keeps on jumping from one country to another for no rhyme or reason -- Poland, Germany, Hong Kong and Morocco among them.
The only reason MAY BE you can watch this film, is for this world tour and Alex Fisher's cinematography.
Rediff Rating: