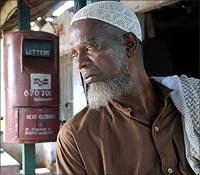 Paresh C Palicha feels that Aadaminte Makan Abu is immensly watchable.
Post YOUR reviews here!
Simple is beautiful; that is the thought that crosses one's mind as one watches the National Award winning and much celebrated Malayalam film
Aadaminte Makan Abu
directed by first timer Salim Ahamed.
Salim Kumar plays the title role of Abu, which won him the best actor award at the National as well as State level.
The beauty of the film is that the director, who is also credited with the story, screenplay, and dialogues, has woven a psychedelic yarn out of a simple thread, which is the wish of an aged and poor couple to go on pilgrimage to Mecca.
Abu, a septuagenarian
attar
seller who plies his business outside mosques, has been saving his earnings to go on Haj accompanied by his wife Aishumma (Zarina Wahab). His efforts to fulfil his wish and how those surrounding him and those he comes across help him, is the core of the film.
One of the endearing aspects of this story is that there is little negativity or even negative characters. The only negative character
is Abu's son Sattar, who has migrated to the Middle East with his family and virtually discarded his aged parents. He is just mentioned in conversations between the characters and does not appear on screen. A policeman (Sasi Kalinga), who does the police verification for Abu's passport application, could have been the villain of the piece, but once he gets his bribe he becomes quite helpful.
Other characters that come into the narrative are the school teacher played by Nedumudi Venu, an intelligent friend of Abu's who is there in his time of need, and Hyder (Suraj Venjaramoodu), the local teashop owner who empathises with Abu.
It goes without saying that it is Salim Kumar who has the towering presence and hovers above the story. Make-up by Pattanam Rasheed helped, but it is Salim Kumar's acting skills that have made him enact perfectly the part of a 75-year-old man with blood shot eyes and a tendency to fall off to sleep in the middle of a conversation.
Director Salim Ahamad, who is also the scriptwriter, keeps things simple, though sometimes we do feel that he is trying to deliberately tug at our heart strings. The other thing that jars is the promotion of a travel agency and its Haj trips. These are just minor blemishes in an otherwise enjoyable movie.
Aadaminte Makan Abu
deserves every accolade that has come its way, for its simplicity and charm.
Rediff Rating: