One needs patience to watch Once Again, feels A Ganesh Nadar.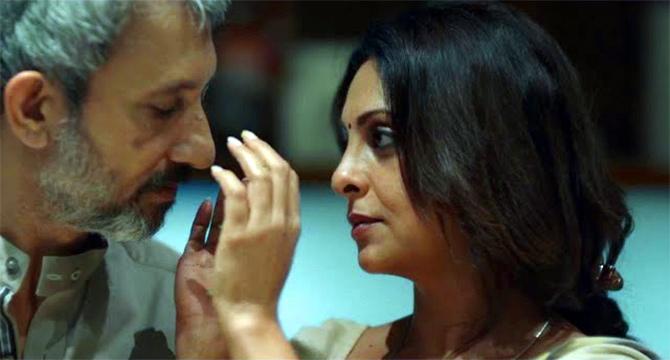 Most of the emotions in Netflix's new film Once Again are conveyed via Talvin Singh MBE's outstanding score.
Neeraj Kabi and Shefali Shah's romance reminded me of Naseeruddin Shah's in Ishqiya and Vidya Sinha's in Chhoti Si Baat.
Director Kanwal Seth clearly adores Mumbai because he keeps the city alive in every scene.
Mumbai, in fact, is one of the characters in this film.
Once Again is set on the streets of Mumbai, in a restaurant, a house and two cars.
While movies generally block out all sounds to emphasise the dialogues, the sounds in Once Again are characters themselves.
So whether it is the lashing of waves along Mumbai's beaches, the sound of fish being fried in oil, the sound of vegetables being cut, or the sounds in a market, the sound enhance the scenes being played out on screen.
Neeraj Kabi plays a successful actor -- that fact is hammered into our heads, thanks to the way random people hound him for selfies.
As is the norm these days, the media is depicted as intrusive, sensation-seeking and destructive of all relationships.
Divorced, Kabi finds love again in a widow (Shefali Shah).
While her daughter (Bidita Bag) supports this love, her son (Priyanshu Painyuli) condemns his mother's relationship.
One of the most touching scenes is between Kabi and his driver when the latter confesses that his wife and kids left him a year ago.
Rasika Dugal, playing Kabi's daughter, is outstanding and reveals why we need to see her in more films than we do.
As a daughter of divorced parents, she needs just one scene to convey her pain.
Yet, her love for her father is touching, when she asks him, 'You are serious about her?'
One needs a fair amount of patience to watch Once Again as it takes you through the complexities of love in the evening of the couple's lives.
Rediff Rating: