'This colliding of worlds is a feature of chawl life in Mumbai, where the clashes in one household often become prime-time television for the neighbours; where the boundaries of good sex, lechery, and incest are frequently blurred,' says Sreehari Nair.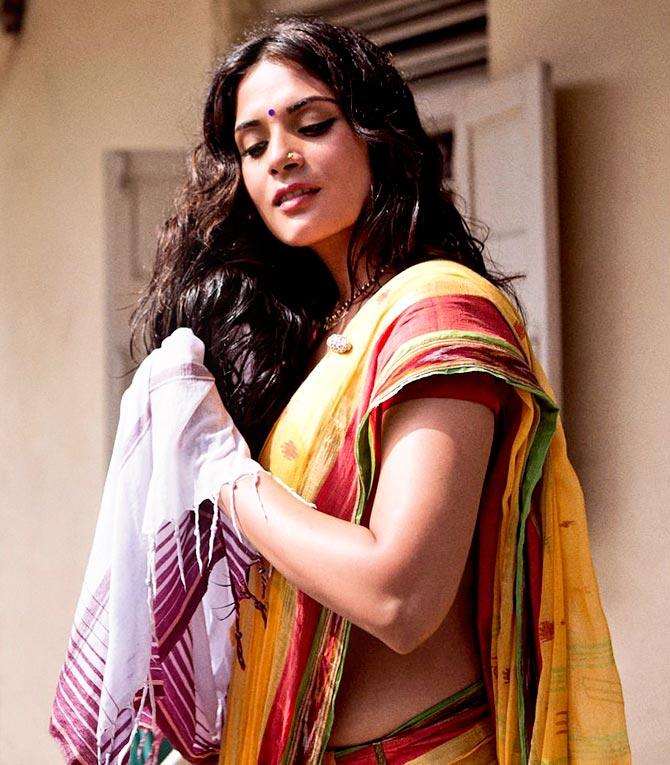 3 Storeys is an orgy of storytelling.
It's about racing from one emotional high to another, and getting drunk on a series of blazing O Henry finishes.
The movie is also sporadically naïve -- forgoing character development, causality, and moral sobriety in favour of shocking ironies -- but its naiveté magically becomes a part of its style.
This is a movie in the tradition of the best bedtime stories, and when have psychological tautness or deep insights into human behaviour ever sent anybody to bed?
Structurally, 3 Storeys is three short films, snapshots from lives which are floors apart in a chawl in Mumbai, joined end-to-end.
The film is both an anthology of stories and an interweaving of them, with major characters from one story appearing as minor characters in the others; where every lead also has a day job: As an extra in someone else's life.
This colliding of worlds is a feature of chawl life in Mumbai, where the clashes in one household often become prime-time television for the neighbours; where the boundaries of good sex, lechery, and incest are frequently blurred.
Writer Althea Kaushal and director Arjun Mukherjee have cleverly used this feature to fashion an absorbing new genre: The lower middle-class thriller.
Richa Chadda presides over the three stories like the nameless man from Kieslowski's Dekalog, the sullen man's wintry heart replaced by her temptress ways; she is Jesus turned into a happy, swinging, Mary Magdalene.
The sun bounces off Chadda's face and the water from her wet hair perfumes the air in the chawl's compound.
She silently observes the movie's characters and their sad lives, before pulling the rug from beneath our feet, and revealing to us that she's also been observing us, the audience, all along the way.
This is pop micro-fiction at its juiciest -- which is what most of our over-rated short films also aim to be -- and barring something like Jyoti Kapur Das' brilliant Chutney , what none of the short films ever successfully end up becoming.
Debutant director Arjun Mukherjee presents Althea Kaushal's stories with a lightness of touch but his big triumph is in the way he clips their dramatic arcs to precise lengths.
There is hardly anything extraneous in the story-telling; and Mukherjee and his editors have worked overtime to ensure that even the pauses in the conversations are not made known to us.
Mukherjee also knows that this is a writer's movie and he directs the film so as to give it a feel of the writer talking the stories to us (the storylines also bear spiritual similarities to the kind that have come on the scene since the explosion of blog sites in the 2000s).
The basic setting of 3 Storeys is a chawl, but the basic premise is a writer's imagination that comes fused with the writer's cruelty, her gaze, and her freewheeling temperament -- all of which lets her re-imagine a Mumbai-based chawl, here, as a veritable Neverland: The housing society is fittingly named Maya Nagar.
In Maya Nagar live five women: The big-bosomed, frisky whacko Flory Mendonca (Renuka Shahane), a cold housewife with regrets for keeps Archana (Masumeh Makhija), the dreamy-eyed Malini (Aisha Ahmed) who when she dances with her boyfriend, it seems like they are doing the dance; and two mothers who share a dangerous connection.
If there's loud drama played out in the homes with their windows open for everyone to catch a peek, there are deadlier secrets hidden behind closed doors and the women are carriers of these secrets.
The men pursue the women, put the moves on them, reunite with them, and try getting them to play the game the way they want it to be played.
But when the secrets come tumbling out, it's the women, in the manner of those great Almodovar women, who show the instinct and the intelligence to cover up the blood and the bodies with good upholstery and fine tile works.
Renuka Shahane's Flory Mendonca is a memorable return to acting for one of our liveliest smiles, here smiling a tad uncomfortably.
Shahane's Flory moves like Tom Sawyer's Aunt Polly, and Mukherjee and his cinematographer Will Humphris photograph her like a dream of the past.
She breaks open her green-peas cover and Aks na? she goes, like a good Mumbai-based Catholic with not much time to correct her verbs.
When a silver-tongued big-shot (Pulkit Samrat) buys her home in Maya Nagar, and gets her to narrate her back-story involving her dead son and a stash of stolen diamonds, the camera closes in on Flory's face with every passing turn of the narrative, till she is partly a comic book character and partly an actress from a Bergman film.
And the real surprise of this section is not the twist itself, but the fact that the twist broadens the range of her character and you see Flory as a double for all those women who are honest about their stories but wily enough to know when mis-directions ought to be employed.
Flory is a culture onto herself, and in a scene later, Renuka Shahane casually feels her tummy as she talks; a gesture commonly observed among mothers who have lost their children.
While there's almost a hallucinatory tingle about Flory's story, it gets replaced with a grittier, fly-on-the-wall feel when the action shifts to Archana's household.
Archana is wife to a man who has perfected the art of taunting -- there's not one straight sentence he throws at her.
Althea Kaushal and Arjun Mukherjee smartly make the husband, Shankar, a goofy misogynist. And it's a sophisticated performance from the actor, one which conveys both how devilish he is and how much of that devilishness is sourced from his own, little complexes and failures.
And Masumeh Makhija is earth-shatteringly good as Archana (why do we get to see so little of this fine actress when we're made to contend with so much of Taapsee Pannu?).
Makhija's Archana seems to be moving to a background score specifically designed for her character, and the score's a heartbeat raised to its peak.
She's wonderfully poised in the company of her neighbours, cross-legged and stiff-necked, and later when she drops the poise and wraps herself tightly in just a bed-sheet or when she takes a swig from her husband's rum bottle, Masumeh Makhija almost leads us through Archana's entire history of unfulfilled needs, heartbreaks and broken promises.
Archana's section has the most unconvincing twist of all the three stories, but it also contains the finest behavioural performances among the lot.
Sharman Joshi appears as the ex-lover, and it is to the actor's enormous talent that he doesn't turn his character into a respectable bore. His face darkened and manner upright, Joshi at times looks like a blown-up version of Master Raju, if only Master Raju had grown up to be a better actor.
Arjun Mukherjee is here giving us a compressed world, one in which the surprises can cling onto each other readily, but he also maps out the small details of that world with utter care while not making a big show of his efforts.
The conversations between the characters are often punctuated by the distant rumble of passing trains, Azaans, and the small chattering of the cascading little worlds.
The camera, at times, follows the characters tightly, catching their reactions on the wing, and at other times, it sits back, letting life take over.
There's a documentary shot of sorts, where we see the multiple realities in the housing society, unfurling in parallel: On the first floor, Archana confers with a woman, and on the second floor, her husband, welcomes their son home.
There is also a genuine attempt here to get at the party tricks and the survival strategies in a chawl life, some of which are clearly born out of a peculiar kind of desperation and a lack of space.
There's, for example, a chawl wisdom in hiding diamonds worth Rs 2 crore in a sugar jar (Sriram Raghavan would have been proud!)
A marriage is interrupted by the arrival of cops, but it resumes in its full glory, immediately after the cops have left.
And there's the resident policeman, Ganpatrao (Himanshu Malik, almost unrecognisable), who possesses too much of a squashy heart to be a real policeman. Ganpatrao has the hots for the temptress (played by Chadda) but is beaten in his quest by the housing society's resident milkman, who then advises the anguishing policeman to get married. Ganpatrao listens to the advice, collects the milk, and leaves!
People are identified not by their names or last names, but by their house numbers. Archana is designated as '40 number waali.'
In a brilliant sequence, Malini's mother, who is opposed to her affair with Sohail (Ankit Rathi), doesn't scold her or slap her when she discovers that she's overstepping her limits; instead, the mother simply takes her daughter home, hands her a plate of husk and chaff-filled rice and orders: 'Here! Clean this!'
Malini and Sohail's section has the most stomach-turning of endings; it's a trip through a sunshine world that culminates in the murkiest of places. But like all the twists in the picture, it's less a lyrical shocker and more a pop shocker.
There'll be as many laughing gleefully at that ending, as there will be those who will confess to being disturbed by it, and I guess that is a conscious artistic choice and not a howler.
3 Storeys takes its time to get going, especially jarring are the initial exchanges of dialogues, where the characters seem to be explaining things to the audience on the pretext of talking to each other.
Also, the stories are 'too neatly wrapped up' and that, in a sense, locks the otherwise freely moving characters in one place.
But there's undoubtedly a new spirit, a new vigour for good old storytelling that shines through this film. And that's born, I think, out of pumping high-pressure, pulpy scenarios into the most congested of living spaces.
3 Storeys is a movie of endless surprises: There's one murder, one giant regret re-lived and regurgitated, and one devastating catastrophe that comes out of nowhere. But none of these high-points has any room for discharge.
The dead man and the wailing lovers, all seem to be holding it back for the fear that the neighbours may hear them.
Rediff Rating: