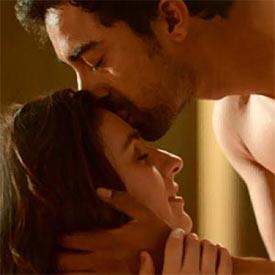 Vishal Mahadkar's horror film 3 AM is the story of a paranormal investigation gone wrong, both for the film and the viewer, feels Nishi Tiwari.
This year has been particularly eventful in Hindi movies' horror genre.
Kicking off with the rather unambiguously named Darr@ the Mall that released in February, as many as seven horror films have hit the marquee so far.
While Sunny Leone-starrer Ragini MMS 2 scored decently at the box office, others -- on account of poor content (Bipasha Basu's Creature 3D) and/or lack of marketing (Machchli Jal Ki Rani Hai) -- departed as unceremoniously as they had arrived.
Eighth in the list is Vishal Mahadkar's Rannvijay Singh and Anindita Nayar starrer 'musical horror' 3 AM (calling a Hindi film a musical is like saying there is paranormal activity involved in a horror story).
But enough of premature nitpicking for now.
So Rannvijay plays, well, himself in the film -- his Sunny is the host of a successful reality show. Things are going well for him when one day, his fiancee (Anindita Nayar's Sarah) is found dead under mysterious circumstances in the haunted Rudra mills complex.
After grieving for an appropriate number of days, Sunny steps out with a new reality show idea that he successfully pitches to the channel head.
He returns to the dilapidated Rudra Mills to begin work on the new show with his friends-cum-colleagues Raj (Kavin Dave) and Cyrus (Salil Acharya) -- after reading up on and researching about paranormal activities, he has decided to investigate the supposedly evil goings-on in the mill premises that are believed to get more sinister as the night progresses and peaks at 3 am.
If the film showcased any potential until this point, it all goes down a whirlwpool of loopholes, the most recurring of which is the fact that the trio arrives at the mill complex with two digicams, another hand-held camera, and what looks like a usual voice recorder to record paranormal activity.
Adding to their own self-inflicted misery (and much to our chagrin) is the way they go about invoking the spirits -- by screaming out their names and inciting them to show themselves while periodically reiterating to each other that they should remain quiet lest the spirits disappear due to atmospheric disturbance.

Anyone, who has seen even a fraction of paranormal investigations on the Discovery channel, will tell you how comically ill-equipped and ill-informed this trio is.
The security guard Khan, who narrates the story behind the haunted spot, is another character stereotype -- he uses Urdu words like 'numainde' and 'kehar' with a flourish while the three central characters enunciate their way through the film and suffix most of their sentences with awkward 'bros' and 'dudes.'
Amidst all this madness, the story moves quickly from a myth-busting quest to a myth-affirming oddity faster than the feisty college-goers, to whom Sunny is narrating his Rudra Mills story, realise what's going on.
For horror film lovers, 3 AM will evoke more chuckles than chills.
Rediff Rating: