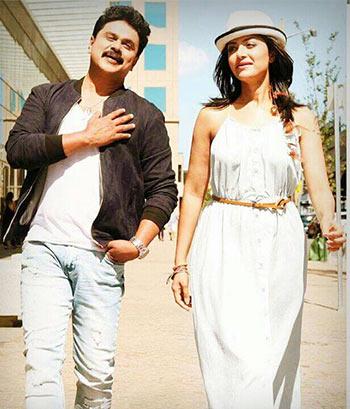 You will enjoy 2 Countries only if you're a Dileep fan, says Paresh C Palicha.
In his last few films, Dileep has tried to gain wider acceptance as an actor by trying out to roles outside his comfort zone. His efforts have got mixed response at the box office.
With his Christmas release 2 Countries, he jumps back into familiar territory of comedy with Shafi, an experienced hand in slapstick, helming the project. The film is written by Shafi's elder brother Raffi.
The 'Countries' used in the title does not mean the geographical region recognised by the international community but bumpkins or the people who lack sophistication.
Ullas (Dileep) is a lazy fellow who wishes to break bread without moving a bone of his body. He thinks the easiest way to do this is to marry a rich girl.
His first choice is a physically challenged girl (Isha Talwar), whose brother is a rich businessman named Patel (Makarand Deshpande). But he changes his mind once he gets a proposal from Canada.
The girl Laya (Mamta Mohandas) turns out to be his childhood sweetheart.
It is only after marriage that Ullas realises that his wife is an alcoholic.
There are more cultural shocks in store for him in Canada.
He learns that Laya's father (played by Asokan) is actually her stepfather and her real father is a serial divorcee. Her stepmother is as young as her. These issues made her hit the bottle.
The theme of this film is similar to the one in Life of Josutty that released a few month ago, where Dileep migrates to New Zealand as the house husband of a nurse working there. That film dealt with issues with more seriousness but was not welcomed by his fans. So this film feels like an exercise to appease them.
Mamta Mohandas tries to look real as a loud and uncouth person, but her effort shows and her discomfort is visible.
Mukesh, who acts as a guide to Ullas teaching him about the ways of the foreign land, leaves a mark. He tells Ullas once that he should learn to make merry with his wife's earnings as he was leading a comfortable life while his wife worked hard as a lawyer.
2 Countries is a standard Dileep fare, enjoy it if you are a fan of his, otherwise laugh on a few borrowed jokes.
Rediff Rating: