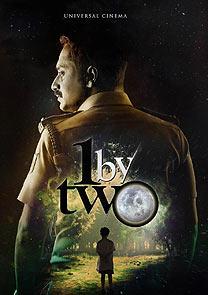 1 by Two is a let down considering the expectations it had raised before its release, writes Paresh C Palicha.
Arun Kumar Aravind's Malayalam film 1 by Two solves one mystery that has haunted me for years: why do directors like psychiatrists (as characters) so much?
The answer would be that when the conventional tools of storytelling fail to convey something to the audience, bring in a psychiatrist who will talk about some strange phenomenon that makes the viewer believe it is beyond his knowledge but authentic.
In 1 by two, director Shyamaprasad who plays Dr Cherian, a psychiatrist, has to do lots of talking to keep the audience in the loop about what is happening on the screen.
The story of the film is about identical twin brothers Hari Narayan and Ravi Narayan, both played by Murali Gopy.
Hari is a renowned surgeon and is killed in a car crash. This makes Ravi suicidal but his effort to kill himself fails and he is hospitalised.
When he gets up from the hospital bed, he starts behaving as if he is Hari, showing his brother's traits and habits.
That is not all; he visits his brother's hospital as Dr Hari and performs a critical surgery saving a child's life.
Everyone around him is surprised and it is Dr Cherian who comes up with the explanation that as Ravi's mind is not capable of accepting the fact that Hari is dead, so it has created the illusion that he himself is Hari.
Meanwhile, there is a police officer Yusuf Marikkar (Fahadh Faasil), who is hell bent on arresting Ravi because he has attempted suicide and is mentally unstable.
The film goes haywire in the first half itself as Dr Cherian tries to prove that Yusuf himself is insane and mentally unstable with a disturbed past.
Now, we would logically expect that the focus will be on Yusuf. But, the story takes a totally new direction and doesn't seem to know how it should end.
A venture such as this demands a lot from the actors. We cannot really find fault with them if their efforts seem half-hearted or loud because the premise they are given to work on is itself shaky.
Murali Gopy who is understated most of the time even while handling two characters that look similar, has to suddenly go ballistic in the climax and he gives an over-the-top performance.
Fahadh is made to look cool on a bike with glares, but most of the time comes across as a cop on sedatives.
Honey Rose, who has a role similar to Revathy's in Mayamayooram, holds her ground.
1 by Two is a let down considering the expectations it had raised before its release.
Rediff Rating: