Pinjar is a tale of two families, but it is not the typical overdone family melodrama. Set during Partition, it refrains from being judgemental. And though it is very emotional, its appeal extends to both genders.
The film is an honest, elegant presentation by director Dr Chandraprakash Dwivedi. The collective effort of the crew is responsible for an enterprising visual translation of Amrita Pritam's novel.
Pinjar's strength lies in its story, which starts in 1946 and is set in the province of Punjab.
Puro (Urmila Matondkar) is to be married to Ramchand (Sanjay Suri). As dictated by the popular tradition in those days, both families also agree to a marriage between Ramchand's sister, Lajo (Sandali Sinha), and Puro's brother, Trilok (Priyanshu Chatterjee).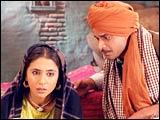 But Puro becomes the victim of a family feud and is kidnapped by Rasheed (Manoj Bajpai).
Ramchand is asked to accept Puro's sister Rajjo instead, which he refuses to do. His cousin then marries Rajjo. Under tremendous pressure from his family, Trilok agrees to marry Lajo.
Meanwhile, Rasheed falls in love with Puro and offers to marry her. Puro somehow manages to escape only to find that her parents will not take her back because she has lost 'everything'.
She is horrified and returns to Rasheed and leads the life of a soulless skeleton when she marries him. Rasheed realises his mistake and starts his search for redemption.
The country is split by Partition and Lajo is kidnapped by a Muslim youth. When Puro comes to know about this, she launches a search for Lajo. She realises she cannot succeed in this without Rasheed's help.
I give full credit to art director Muneesh Sappel and cinematographer Santosh Thundivil who take the viewers to the pre-Independence era right from the very first frame. Gulzar's lyrics and Uttam Singh's music adorn the project beautifully.
The director successfully carries off the tremendous responsibility of this film with conviction and hard work. The characters have been extensively developed and have been cast carefully.
Manoj Bajpai has the toughest role and is amazing. He handles complex situations with his body language and eyes. Urmila Matondkar has the central role and does a very good job for the most part. She excels in some scenes and, in some, her lack of experience shows.
Priyanshu Chatterjee is a delight to watch. As son, brother, husband and patriot, he charms his way through the project. Sandali Sinha essays her role gracefully. Sanjay Suri plays the suave, intelligent and philosophical poet with consummate ease.
Pinjar's presentation exemplifies the art of storytelling.
Watch Pinjar if you like serious cinema.
Some of the scenes which were brilliantly handled:
Trilok's characterisation.
Ramchand and Lajo's introduction.
Rasheed's attempts to win Puro's confidence.
Puro's mother expressing her helplessness over the plight of women.
Trilok's breakdown when he learns about his sister's kidnapping.
Puro's rejection by her family.
Puro's attempts to save Lajo.
The incident where Puro changes her name.
Rasheed's constant search for redemption.
Rasheed's disappearance at the Indo-Pak border during the climax.