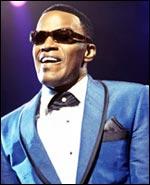 L
ike legendary performers before him, including Marlon Brando in On The Waterfront, Jack Nicholson in One Flew Over The Cuckoo's Nest, Peter O'Toole in Lawrence Of Arabia and Denzel Washington in Malcolm X, Jamie Foxx ignites the screen in Ray. Here is an unexpected, career-defining work.

Foxx, who was appealing as the quixotic taxi driver in the Tom Cruise-starrer Collateral, plays Ray Charles in the new movie. Among the most controversial singers and composers in America, Charles eventually became a much loved artist of towering stature.

Foxx does an extraordinary job of recreating the blind singer's mannerisms, gait and voice. He also does an awesome job lip-syncing Ray's memorable songs including I got a woman, What'd I say, Unchain my heart and Georgia on my mind.

What Foxx, who studied piano in a graduate programme, does best is take us into the singer's tormented soul and expresses his slow but tumultuous journey, coming to terms with his fame, failures – and his humanity.

He also captures the fierce and funny side of Ray Charles. Foxx, who has said on several occasions that he didn't want to mimic the legend, instead strived to hold a mirror to Ray's soul.

At 150 minutes, the movie becomes unwindy, and some of its key passages -- such as Ray Charles coming to terms with segregation -- are rather weak. But this is an honest account unflinching from the unsavory aspects

of the musician's life. In the final reckoning, the exhilarating film is also emotionally moving. Ray involves viewers in the social and political history of America.

Made with Charles' blessing, it was completed before his death in June. Director Taylor Hackford, who struggled to make the film for 15 years, and could sell it to a major studio (Universal) only after its completion, claims that the musician was clear that the movie should tell the truth about his life, which includes his drug abuse for nearly two decades, and his numerous affairs.

Born in a poor town in Georgia, Ray Charles lost his sight to glaucoma at the age of seven. His fiercely independent and gutsy mother (an awesome Sharon Warren), a laundress, raises him to be self-sufficient and eschew self-pity.
The scenes where Ray learns to lean on his other senses are the most effective. Warren's tone is harsh and the voice commanding, but we know he intends to make Ray grow up to be truly courageous. Later, Foxx does an insightful job of explaining how he gets on without a cane or a dog.  

Ray, making his name playing jazz in Seattle, insisted on being paid in singles so he could count them. This is recreated with restraint. Even so, it is difficult to hold your tears.   

A pianist and singer in deeply segregated America where black entertainers were often used to entertain white audiences, the soulful singer's popularity began soaring when he broke tradition and pioneered a fusion of gospel, country, jazz and orchestral influences.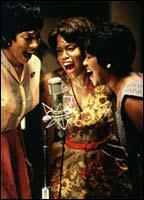 Inevitably, he was also drawn into fighting segregation in the very clubs that launched him and championing artists' rights against giant corporations.

His career and reputation were often challenged by heroin addiction and sexual infidelities, including an affair that begot an illegitimate child. The movie sees his fight with his inner demons as a journey towards self-realisation, and we applaud his unsteady but ultimately successful fight against heroin.

His confrontation with wife Della Bea, who endures his addiction and sleeping around, could have deteriorated into too much melodrama, but Hackford has the sense to withdraw from scenes that threaten to go overboard.

Bea is played to magnificence by Kerry Washington who, like the other women in the film, triumphs despite Foxx's overwhelming performance. Regina King is sheer dynamite as Margie Hendricks, the volatile backup singer Ray seduces and eventually abandons.

Hackford's film, one of many 2004 biopics, triumphs because the filmmaker unfolds a complicated story smoothly and touches hearts without melodramatic excesses.
CREDITS
Cast: Jamie Foxx, Regina King, Kerry Washington, Sherry Warren
Director: Taylor Hackford   
Written by: James L White, Taylor Hackford 
Running time: 150 minutes
Rating: PG-13 - For depiction of drug addiction and sexuality