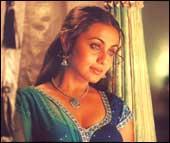 With the release of Mangal Pandey: The Rising, Ketan Mehta's historical epic exploring India's First War of Independence in 1857, it's rewind time for Bollywood.
So, we decided to look back at more Hindi cinema set in that crucial period of Indian history. This is the final in a three-part feature. After exploring Satyajit Ray's masterful Shatranj Ke Khilari, and Shyam Benegal's unforgettable Junoon, we come to the Aamir Khan starrer, Mangal Pandey: The Rising.
...
I'm astonished. What was Aamir Khan trying to do with Ketan Mehta's Mangal Pandey? Going by the historical inaccuracy, detailing inconsistency and utter inanity of the finished product, one can merely hazard a guess. Perhaps, on some bizarre level, the actor was envious of Shah Rukh Khan's much-lampooned Asoka and decided to make his own history-rogering film where he could sport long hair and emerge gloriously out of bathwater. Tsk.
Ketan Mehta can craft a solid, historical biopic, as the director showed us with the neatly made Sardar with Paresh Rawal as Sardar Patel. This film, however, is not about history. In fact, it's hard to pinpoint what it is about.
While understandably favouring a more popular Mangal Pandey viewpoint than the Rudrangshu Mukherjee version, Mehta's film fails even to capitalise on a powerful myth, eventually handing us a protagonist chock-full of red-eyed bluster.
Mangal Pandey was a sepoy. Going by lore and the three paragraphs our history books devoted to him in school, he was incensed by greased cartridges, stood up in defiance to the British, and was ultimately executed, becoming the first martyr in India's war for independence.
Mangal Pandey paints the picture of a young soldier given to mid-afternoon glasses of bhang, easily stirred and pretty seriously confused -- which is a state of affairs we share almost throughout the film. Especially when he barks orders to established leaders of the freedom movement like Bakht Khan and Tatya Tope.
Also, what's with the hair? As far as I can recollect, the British were sticklers for neatness and regularity, and while they might possibly have made exceptions for some of their officers -- the Frank Zappa/Nikhil Chinappa goatees still seem a stretch -- they would surely have frowned on a rockstar-haired young Indian. Also, his decidedly hostile attitude wouldn't help. So, weren't crew cuts standard then? Well, Pandey's descendants have gone on record saying that their legendary ancestor had a single plait, like any traditional Brahmin of the time. But it won't be Aamir without a sensational 'look' gimmick now, innit?
Even as a legend driven to action by cartridges, Aamir sure digs the ham. The constantly-furious actor is in a state of perpetual seething, and this overdone intensity makes sure the audience doesn't relate to the caricature he plays. He glares, he yells, and gruffly turns around to march his way solo, his ponytail bobbing crossly behind him.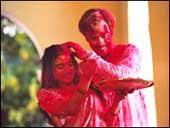 Then, inexplicably, there are the women. Rani Mukerji plays a bosom-baring prostitute christened Heera, in love with Mangal. The two cavort merrily during Holi celebrations, a day after plans to free India have been hatched, and his Brahmin background that previously forbade him to come in contact with untouchables seems forgiving enough when he wetly embraces this nautch-girl.
In an equally needless role, Amisha Patel plays conveniently named sati-to-be, Jwala. Saved by Captain Gordon (Toby Stephens in a relatively better written character), she turns into his meek mistress, weeping copious, irritating tears during their lovemaking.
This film's full of skin, by the way. Besides the fact that everyone, including Toby, shows off their upper body to its pushed-up limit, there are Englishwomen who writhe and stretch sensually in bed, and Sophia Haque who comes out of nowhere to perform an item song! Oh, and really, the lesser said about A R Rahman's sleepily composed soundtrack, the better.
The Rising is full of annoying sub-characters, none of whom have much to do in the overall picture of the film, except paint a picture of Indians at the time as a disgustingly servile lot. In terms of mainstream cinema, some jingoism is crucial to portray a national hero, if only to perpetuate a myth. This film takes another extreme, and shows a rather sorry bunch of Indians for the most part.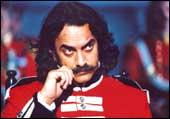 Despite the inconsistent switching around of his English inflections, Toby Stephens does a commendable job in the film, holding his cardboard character's head up higher than the rest of the cast. And, as is the staple with 1857 cinema, Tom Alter -- seen in both Shatranj Ke Khilari and Junoon -- brings out his cufflinks and potters around, but is sadly given nothing to do.
Coming from Ketan Mehta of Mirch Masala, a director who knows how period cinema can and should be handled, this is a waste. Coming from Aamir Khan, the most highly regarded 'actor' among Indian leading men over the last two decades, this is a disaster.
Mangal Pandey is just cleavage and cliche, signifying nothing.
How pathetic is the film? Well, it almost made a certain long-haired movie critic hack off his humble curls. Mangal, mangal, forsooth!