Most of us don't know what happens inside the Royal House of England. We hardly know what kind of a life the queen leads.
In this week's release, The Queen, Oscar-winning actress Helen Mirren -- who plays the queen -- is such a natural, you feel you're actually watching Queen Elizabeth. Her mannerisms, her gait and her clothes have been done very beautifully.
The film is set during the time of Princess Diana's death in 1997 and what the royal family went through.
Queen Elizabeth II has to take decisions about Diana's funeral. She goes against the public's wish, causing much anguish among the people of Britain who feel that the royal family is out of touch with reality.
One of the biggest highlights of the film is the way it details Queen Elizabeth's birth and the way she was raised in the era when the British royal family was supreme. Princess Diana's death, however, changed that and marked a departure of that era due to which the royal family was hounded by an angry Britain.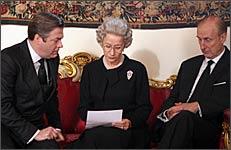 The scene when former British Prime Minister Tony Blair (Michael Sheen) subtly tells the queen what she should do to control the public anger against the monarchy -- because Diana was the people's princess -- is spectacular. 
The film makes you understand how the British monarch had to change with the times as Queen Elizabeth II had to accept the people's wishes rather than just doing what she or her family wanted to do.
Alex Jennings, who played Prince Charles, is shown to be a very good husband. James Cromwell, as Prince Philip, does not impress.
But The Queen is worth a watch for Helen Mirren alone. Don't miss it.
Rediff Rating: