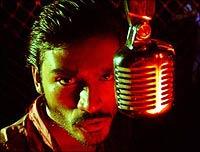 Coming from a director like Selvaraghavan, Puthupettai is unbelievable. He loses grip over the plot and the narration goes haywire. Things become confusing and make the viewer restless and uneasy. As it draws to a climax, you are ready to run for the exit.
It begins with Kokki Kumar (Dhanush), a bearded youth in jail telling us about his life. His father, in a fit of rage, kills his mother and plans to kill him too. The boy escapes and takes to begging at railway stations. He is arrested by cops along with the gang of a local thug, which leads him to their leader Anbu (Balasingh). He soon becomes the gang's hero and the boss' favourite. Kumar gets emotionally involved with Krishnaveni (Sneha), a call girl working for Anbu, and asks the latter to hand her over to him. This leads to a rift and Kumar bumps off Anbu. The murder takes him to a politician (Azhagaperumal) who controls the vice racket. Kumar takes control of Anbu's territory and soon rises in the underworld. He reduces the territory of a rival gangster controlled by a rival politician. Meanwhile, he forcibly marries Selvi (Sonia Agarwal), an aide's sister.
From that point, the plot starts to slide. Politics, gun battles and violence dominate. The dreaded gangster Kumar starts behaving as if he is a lunatic. His raving and ranting cannot be understood. Finally, when you think it's going to end, the director springs yet another surprise. It shocks you not for its twist, but because you assume director Selvaraghavan has lost his balance. Possibly the worst climax seen in Tamil cinema in recent times. When you walk out, you do with a heavy feeling that Tamil cinema has lost a director who one hoped would take it to greater heights.
On the plus side, credit is due to the characterisation of Krishnaveni and Selvi. Both actors come through with excellent performances. Next is Yuvan's background score and music, which is very earthy and compliments Aravind Krishna's cinematography. A word of caution though: If you aren't watching the film at a multiplex, the Super 35 mm format is bound to look dull and strain your eyes.
Dhanush does give his best to the role but, sadly, his brother's script and characterization lets him down. The first half is watchable and the dialogue is very real, but the second half tests your patience. The Selvaraghavan-Dhanush chemistry no longer works.
Rediff Rating: