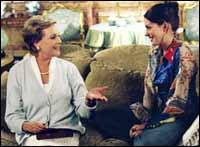 Uninspiring, mirthless, and a commoner poor. One may think of hundreds of words to run down the tasteless The Princess Diaries 2: Royal Engagement. But there are surely millions of movie fans who will like the film and make it an above average success.
The film, which opened last week to roasting reviews, grabbed an encouraging $14 million in two days, and looks set to outperform director Garry Marshall's $40 million-grossing Raising Helen which ended its disappointing run last week.
Despite the weak script and ho-hum direction, the new film derives a certain amount of strength from a rather charming performance by Anne Hathaway.
Marshall, whatever his limitations, is rather good at extracting decent performances from his actresses, including Julia Roberts (Pretty Woman, Runaway Bride). Marshall also directed the first Princess Diaries that globally grabbed an impressive $200 million.
In the first film, American student Mia got a visit from Queen Clarisse of Genovia (Julie Andrews) who revealed that Mia was, in fact, the queen's granddaughter, and would inherit the throne.
In the new movie, Mia arrives in the Genovia principality with Lilly (Matarazzo), her best friend. Everything looks bright and cheerful. But ascending the throne isn't easy. For she can do it only after marrying — and she should it do it within a month.
Among the so few young men around is Nicholas Devereaux (Chris Pine), a seemingly nice person but cursed with a scheming uncle, the Viscount Mabrey (John Rhys-Davies). The uncle is planning a coup to put the nephew on the throne, suspecting that the American princess won't fall for Nicholas. Mabrey has active plans to bar Mia from being the ruler.
After learning that Queen Clarisse was happy in an arranged marriage, Mia decides to follow the tradition. The candidate could be the pleasant Andrew Jacoby, Prince of Kensington (Callum Blue). But Mia doesn't have the hots for him. On the other hand, she cannot help telling her diary that Nicholas is smug and sneaky, but he is also cute.
The screenplay could have provided some hard-edged scenes involving her dilemma. And director Marshall could have made the kingdom look not just colourful, but also interesting. It doesn't take much time to realise that most of the kingdom was created in southern California. I, for one, began yearning for the colourful denizens of the cartoon kingdom in the splendid Shrek 2.
While there is hardly any romance worth caring for, there is at least some maturity in the longing that the palace security chief Joseph (Hector Elizondo) has for the widow Clarisse.
Elizondo, who has acted in more than 150 movies and television segments, is one of Hollywood's most underused actors (in terms of talent). It is difficult to think of a Marshall film without him. He is one of the few natural talents in this seriously flawed comedy.
Julie Andrews looks regal and offers one of the few convincingly essayed performances in the film. But the script fails her too. With better written scenes, she could have given the film some dignity — and fun, too.
While the romantic elements in the film sag, Marshall starts focusing on a number of extraneous happenings that are supposed to give us a glimpse into the world in the principality.
There is no doubt that Hathaway is a gifted artiste, and it is a pity that her Ella Enchanted, which is coming out on DVD soon and was a far more interesting film, wasn't a hit. But sometimes films find life after a dull theatrical run. Go and grab, then, Ella Enchanted at the nearest video store.
CREDITS:
Cast: Anne Hathaway, Julie Andrews, Hector Elizondo, John Rhys-Davis
Director: Garry Marshall
Written by: Shonda Rhimes, based on a story by Gina Wendkos and Rhimes
Rating: G
Running time: 110 minutes
Producer: Disney