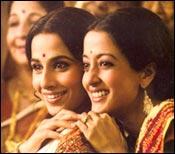 Vidhu Vinod Chopra follows the success of Munnabhai MBBS with a screen adaptation of Sarat Chandra Chattopadhyaya's classic novel, Parineeta.
Refreshing is what comes to mind when you first hear Parineeta. Composed by Shantanu Moitra -- the man behind Shubha Mudgal's Ab Ke Sawan and Sudhir Mishra's film, Hazaaron Khwaishen Aisi -- the songs are penned by Swanand Kirkire.
The Sonu Nigam/Shreya Ghoshal rendered Piyu Bole is a treat, be it the lyrics, the composition or the rendition. Immensely hummable and melodious, the romantic duet featuring Saif Ali Khan and newcomer Vidya Balan stays with you for a long time afterward.
The film, also starring Sanjay Dutt and Raima Sen, explores the difference in a man and woman's perception of love and commitment.
Debutant director Pradeep Sarkar has assisted Chopra on Mission Kashmir and Raju Hirani on Munnabhai MBBS, besides directing the music videos for Ustad Sultan Khan and Chitra's Piya Basanti, Shubha Mudgal's Ab Ke Sawan and Euphoria's Maaere.
Coming back to the soundtrack, Kaisi Paheli Zindgani is exceptional. Close your eyes and you are transported to the era of black and white films, with a crooner in a 'Western' dress coming down the stairs.
Sunidhi Chauhan excels in her rendition of this 1950s (or is it earlier?) style jazz number. Any doubts about Chauhan's versatility must surely be put to rest with this one. And, if it features Rekha on screen, it should be a visual treat as well.
The soft and mellifluous Raat Hamari Toh has Swanand lending his voice, with able support from Chitra.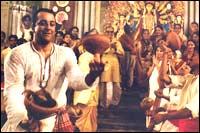 The soft note continues with Soona Man Ka Aangan. A soulful duet about love and loss, Sonu Nigam and Shreya Ghoshal do full justice to this beautiful composition.
Remember Baba Sehgal's Rukmani Rukmani from Roja? Dhinak Dhinak Dha, a fun filled wedding song, is on the same lines. A situational track, this one is rendered by Rita Ganguly.
The melodious and refreshing tunes, meaningful lyrics and exceptional rendition make Parineeta truly different. And a wonderful listen.