A real life tale is always exciting, especially when done right, and so you are hooked to the proceedings right from the word go, applauds Joginder Tuteja.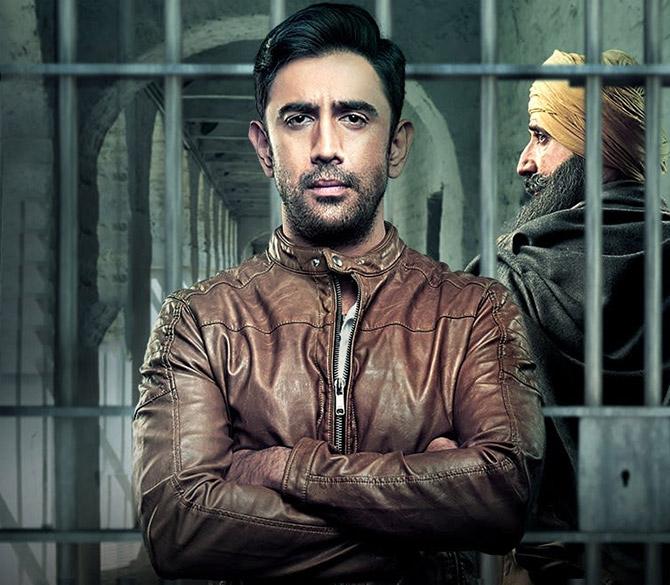 The setting is 2016.
The surgical strike has just taken place and Pakistan wants to strike back.
An Indian terrorist called Babaji (Rahul Dev) by his followers and in cahoots with the Pakistanis is lodged in a Punjab jail.
Out of nowhere, an attack is planned, coordinated and executed by another criminal (Aakash Dahiya) and in just 10 minutes, Babaji is out of jail.
The man entrusted to return him to prison is SP Abhinav Mathur. Effectively played by Amit Sadh, the cop sets out on a 24-hour chase, aptly called 'Operation Parindey'.
Seems like a plot that has all the right ingredients for a thrilling cinematic experience, right?
Well, this isn't really a feature film, but a 50-odd minute Web offering on ZEE5.
Somewhere between a short film for digital and a theatrical fare for cinemas, this one is an original film directed by Sanjay Gadhvi.
The director started the Dhoom franchise (he made the first two parts) but could not follow it up well with his last film -- 2012's Ajab Gazabb Love.
In a way, Operation Parindey is Sanjay's comeback in the thriller zone.
Well, the film does thrill, especially right at the beginning and then at the climax.
You know there is a lot more than what meets the eye when the jail break takes place and towards the end, you know how mobile surveillance can act as just the right tool when it comes to nabbing criminals on the run. Not that this is the first time it has been shown on screen.
Other than this being a staple ingredient for many a thriller in the recent times, it had its most in-depth inclusion in Ram Gopal Varma's Not a Love Story many years ago.
A real life tale is always exciting, especially when done right, and so you are hooked to the proceedings right from the word go.
You are intrigued to know how Amit Sadh will nab Rahul Dev, especially with so many dead ends.
The credit must go to the way Amit approaches his characterisation in a razor sharp way, as he makes his no-nonsense cop act truly believable.
The man continues to be in good form after his other Web stints, Breathe and Barot House. The manner in which he delivers his dialogues to getting his body language right and bringing on heroism without making it comes across as 'herogiri' is what makes his act different.
Meanwhile, Rahul Dev is clearly enjoying his time in front of the camera. Despite playing an antagonist, he brings a certain warmth in his act (watch out for his scenes with his followers or the finale with Amit). He could have gone overboard with his villain act and made it a caricature, but he brings his experience into play to keep it subtle.
Aakash Dahiya has been around for almost a decade -- I noticed him first as an undercover R&AW agent in D-Day -- and he is natural to the core. He gets his common man act right.
That said, the film could have been even more impressive had there been more depth to the proceedings.
As a 50-odd minute affair, it seems like a lot has been packed in quick time with no breathing space or depth in characterisation and situations.
Things seem to be moving too fast with not much going into the background of the characters and their motives.
Moreover, some sequences, especially towards the climax, could have been more detailed.
Fortunately, the moments towards the finale are satisfying with Amit and Rahul coming face to face.
Even as Operation Parindey comes to a conclusion, one gets a sense that there may be more such films coming on this platform that will narrate real life operations.
Rediff Rating: