Let's start with a simple litmus test to see if you will enjoy One Two Three:
Do you think adding an 's' to all things English and making them plural (as in, Suneils Shettys, yous understands?) is a singularly brilliant gag? If you do, then this is your movie of the year.
If not, then you're best advised to leave this B-grade farce alone and pretend it never existed. It's all right, you won't have to try too hard -- I bet the actors are doing the same thing themselves.
Why make a film like this, so obviously bad it hurts?
It's scary to think of who made it. Ashwani Dheer, who did some fine -- albeit occasionally repetitive -- funny work with television's Office Office directs this monstrosity, bringing along a couple of the show's actors but none of its wit.
The prolific Kumar Mangat co-produces the film, which brings to mind the nightmarish thought that a poster for this hideous thing could actually, accurately, carry a 'From the producer of Omkara' tag. Aargh.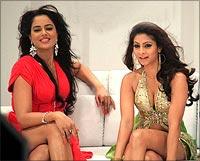 Somewhere, Dheer and his gang decided to play the old mistaken-identity game, and placed three diverse characters together in the same hotel and waited for obvious chaos to ensue. Unfortunately, beyond a weak two-para summation of the premise, not much else seems to have been written -- which is why the pained gags set up in the first few scenes by narrator Irrfan Khan continue to play out, again and again, right to the very climax.
Even that aforementioned 's' bit is something audiences have tired of, having seen it by now in both Saawariya and Om Shanti Om -- and it's not as if it worked at all in either of those movies.
The first Laxmi Narain is Tusshar Kapoor, a bhai-to-be with justifiable reasons for matricide, out to get his first kill. The second LN is a moronically indecisive Suneil Shetty, out to buy a vintage car for his boss. The third LN is undergarment seller Paresh Rawal, out to get designs and move into 'lingeries,' we're told.
Alongside these buffoons are rival dons Manoj Pahwa and Mukesh Tiwari, the latter far higher up than even a bhai, his cohorts calling him 'Papa.' Yup, it's that kind of movie. Oh and when these two appear on screen, the background score, in its misguided attempt to be cool, tries to be casually profane and turns out to be simply embarrassing.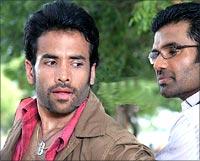 Speaking of wince-provoking, there are the obligatory bunch of bimbettes. Neetu Chandra, playing a tough Jat cop with revolting taste in men, is the only one who keeps her clothes on while car salesgirl Sameera Reddy hesitatingly decides to strip to sell Esha Deol's car. Somewhere in the mix is Tanishaa, a girl who owes her film career to her neckline, even as Deol herself goes all Tamil in her trilled affection for the Mumbai underworld, going into the undergarment business because it too has the 'under' prefix to it. I kid you not.
And so the madness drags on. And on. As said, each gag is stretched far beyond its sell-by date, with a simple bag-swapping routine taking almost 20 minutes, and Shetty and Sanjay Mishra continuing to persist with the imbecilic routines they started the movie with.
Tusshar Kapoor isn't obnoxiously bad, while Mukesh Tiwari actually does quite okay – a mammoth achievement in this scriptless film.
It's as if you gave the Great Indian Laughter Challenge contestants a camera crew and asked them to make a movie. Sure it'd have some basic comic-sketch idea and maybe even funny dialogues, but try watching it beyond 15 minutes. I dare you.
Rediff Rating: