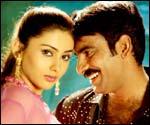 What happens when a couple tries to convert a love match into an arranged one?
That is what debutant director Yogi tries to explore in the Telugu film Oka Raja Oka Rani, starring Ravi Teja and Namita.
Businessman Ravi Teja, a staunch believer in love marriages, falls hard for Namita, who is the daughter of police commissioner Bharani.
Ravi spots her at a railway station when she takes on a thug for bumping into her. Soon, it is Namita's turn to be impressed by Ravi when he teaches a lesson to a shoe shop owner.
They meet, exchange cell phone numbers, and soon express their love for each other.
Ravi wants to marry her, but she knows her rather strict father will not accept their relationship. He had got his elder daughter married to someone she loved. But her husband, who turned out to be very different from what he initially seemed to be, went on to cause her death. The result: Namita's father hates love matches.
Ravi decides to change their match into an arranged one. He enlists the help of marriage bureau owner Brahmanandam. Ravi's photo is passed on to Namita's parents, while her photo is given to Ravi's parents.
The parents show interest and things soon take a happy turn for the lovers.
Unfortunately, Bharani comes to know of their plan and refuses to let her leave the house till he can get her married to someone else.
Will the two lovers meet?
Ravi Teja plays the loverboy to perfection. His fans, though, may miss his signature action scenes. The only fight in the film takes place during the climax. This film seems to be his attempt to break away from his angry young man image. How his fans react to it, however, remains to be seen.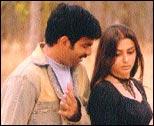 As for Namita, she needs to do a lot more than just look pretty, though the film could become her first hit.
It looks like Usha Kiron Movies will finally deliver a hit with a star -- Ravi Teja -- in the lead role. 
As usual, composer Chakri rehashes maestro Illayaraja's tunes; few of the songs have repeat value.
Director Yogi shows promise.
CREDITS
Cast: Ravi Teja, Namita, Chandramohan, Sudha, Bharani, Sobhan, Sakunthala
Story, screenplay, direction: Yogi M
Producer: Ramoji Rao
Music: Chakri