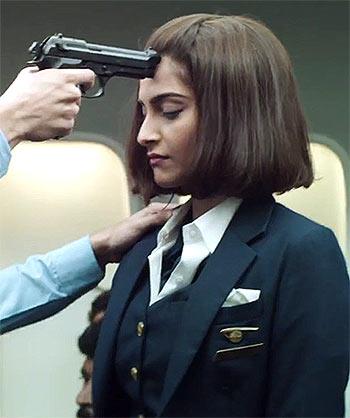 Sonam Kapoor plays Neerja like she cares and that is all the role needs, feels Sukanya Verma.
We live in a rude, impatient world.
We needlessly honk our cars at signals and go berserk if there's even half a minute's delay by the driver in front.
We casually pass remarks about people from communities outside our own because of our inherent prejudices.
We refuse to respond to a person in need by reasoning we have enough problems of our own.
But in the same rude, impatient, world where apathy abounds also exist heroes who think beyond themselves and make sacrifices so enormous, it fills the heart with awe and wonder.
Neerja is a fond tribute to one such forgotten hero and a gentle appeal for decency and daring.
It is only when hurdles are high and hope seems feeble, a challenge appears to make a difference.
This is the story of a bright and beautiful Indian airhostess named Neerja Bhanot who died in the line of duty rescuing her passengers during the 1986 hijack of Pan Am flight 73 in Karachi. She was only two days away from celebrating her 23rd birthday.
Honours like India's Ashok Chakra and Pakistan's Tamgha-e-Insaniyat were bestowed upon her posthumously to mark her act of courage.
But the reason why the film moved me so much, despite some issues, is because of the emotionality it weaves around Neerja -- simply 'laado' to her doting parents -- before that ill-fated hour.
Director Ram Madhvani and writer Saiwyn Quadras create scenes of a cosy, authentic Punjabi household to economically but effectively establish Neerja's charmed life.
The happy-go-lucky Rajesh Khanna fan quotes from Anand, breaks into robot dance with a bunch of kids in her building, cuddles up to her Pomeranian Micky and sticks her tongue out on being teased 'Aunty lag rahi hai' by brothers (as they usually do), who are secretly appreciative of their baby sister's brand new ad on television.
Sonam Kapoor's lovely introduction scene, attending an on-going revelry at Mahim's Navjeevan Society (just a few minutes walk from Rediff.com's office) in an outfit quite like the one I saw on the real Neerja in archived pictures, took me back to those simpler times of disarming middle-class neighbourhoods, DJ-free celebrations -- when residential complexes were addressed as 'colony' and how even a loving stroke of hair from the colony's star 'Didi' would make us blush and feel proud.
Ultimately this is what matters the most, given how invested you feel in Neerja's ordinary dreams.
In contrast, Madhvani clinically observes the dark schemes of the four ANO (Abu Nidal Organisation) hijackers before they board the plane and trigger plausible panic.
Disappointingly, the script doesn't get into their ideological space or even investigates the subtext to this strategy. Barring this one demented fella with the thickest accent, rest of the Libyan terrorists are nondescript, gun-totting standees.
At all times inside the plane, Neerja's focus is on its titular heroine and everyone else is relegated to the background or comes to the fore acting as a catalyst of her heroics. If only Madhvani would show a little more faith little in her dynamism without shutting everyone else away, her bravado would feel a little less manipulated.
Having said that, the back and forth reflection into Neerja's brief and bad marriage do well to reveal her experience with intimidation and, eventually, her strength to overcome it.
What's also impressive is how Madhvani completely rejects the idea of shooting Neerja like a stylised thriller, unlike most other films of this genre, lending it an organic anxiety based on unrehearsed chaos and deglamourised tension. I must say that the optimum use of natural lighting by Mitesh Mirchandani and Subhash Sahu's discerning sound design is instrumental in its fruition.
Through its predominantly gripping 122 minutes, Neerja hits a momentary lull and the director's struggle, as he runs out of nostalgia and torture, shows. Any attempt to spruce up an already frail hijackers arc by alternately humanising and then demonising them only fuels confusion.
Luckily, Madhvani bounces back with two of the film's best scenes, which could have gone wrong, horribly wrong. But the humiliation and heart they convey respectively hits all the right notes because of Sonam's willingness to surrender to the ideal of Neerja without being conscious of it.
I wasn't sure she could carry it off, and she proves me wrong. Sonam plays Neerja like she cares and that is all the role needs.
Like Sonam, Neerja, the film is respectful to the memory of those who lost their lives and doesn't exploit their tragic end to extract a spectacle. It's also about a family coping with a crisis, a nightmare for anyone to know their child is in trouble yet helplessly wait and hope.
Neerja isn't always subtle in its sentimentality what with its moments of a mother (a poignant if mannered Shabana Azmi) instinctively sensing trouble or compulsively scouting for a misplaced good luck charm. And yet so heartfelt in its sympathy, I couldn't fight those tears when her father (a terrific Yogendra Tiku) stumbles for words to comfort his wife on the phone. He is not sure if he has reason to.
But he found much to be proud of a daughter who wasn't merely swayed by the romanticism of Anand, but truly understood the cost at which such philosophy is procured.
Rediff Rating: