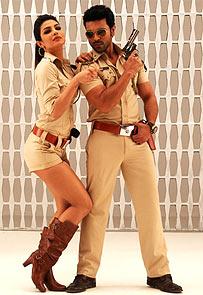 Zanjeer's music is barely passable and doesn't have a single song that can become a chartbuster, writes Joginder Tuteja.

One has decent expectations from the music of Zanjeer.

The film isn't a romantic entertainer in the offering, which usually warrants a popular soundtrack.

Moreover, with the legacy of Amitabh Bachchan's Zanjeer behind it, one expects the narrative to be dramatic with action being the highlight, not music.

The soundtrack has half a dozen tracks, made by Meet Bros, Anjjan Ankit, Chirantan Bhatt and Anand Raj Anand and lyrics by Shabbir Ahmed, Manoj Yadav and Ashraf Ali.

So how good is the music in this film starring Ram Charan Teja and Priyanka Chopra?

Amitabh Bachchan's legendary dialogues from Zanjeer begin the proceedings in Chirantan Bhatt's Mumbai Ke Hero. One wonders whether he would be nodding in appreciation here, what with the words G*** Fat-ti finding more than just a fleeting mention in this five-minute song.

It aims at being cool and funky, just as its video aspires to be eye-catching.

However, despite Mika Singh and Talia Benson behind the mike, the overall impact of this Shabbir Ahmed written number isn't much.

It doesn't get any better with 1980s style Pinky following next. Remember the days of Agra Ka Ghaghra? A similar mood is created in this Mamta Sharma number, with lyrics by Shabbir Ahmed and Ashraf Ali.

It is rather surprising to see Priyanka gyrating to this item number, especially since we have seen better stuff from her. The song is set as a racy outing but average choreography, coupled with an overall unimpressive packaging, makes you wonder what's else in store.

Romantic number Lamhaa Tera Mera is a contemporary number. It has a decent pace although Manoj Yadav's lyrics takes it down a much beaten path. Though Chirantan Bhatt keeps the composition simple, one has heard better stuff from him before. Newcomer Wajhi Farooki makes a fine debut and Palak Munchal gives him good support.

It would be sacrilege to compare a modern day track with Zanjeer's original hit, Yaari Hai Imaan and it indeed must have been a challenge composers Meet Bros Anjjan Ankit and lyricist Shabbir Ahmed. The track in question -- a qawwali called Khochey Pathan Ki Zubaan -- makes a belated appearance in the album.
A decent number which carries a 1970s/80s flavour, it has Sukhwinder Singh and Shabab Sabri behind the mike. Even if one leaves aside the comparisons, this track is just about okay.

The combination of Meet Bros Anjjan Ankit and Shabbir Ahmed returns with Kaatilana. A cabaret track which is presumed to have been picturised on Mahie Gill, this one starts off on an original note, only to converge into Zindagi Mein Zindagi Ka Le Maza Le Le Mazaa which is on the same lines as Bindu's Dil Jalon Ka Dil Jala Ke Kya Milega Dilruba from Zanjeer.
In a series of average songs so far, this Shweta Pandit number doesn't scale any new highs even though it appears again in a MBA Club Mix version.

The album concludes with Anand Raj Anand stepping in for Shakila Bano. An item number which again has a 1980s setting, it is written by Manoj Yadav, with lyrics like Shakila Bano hit ho gayi. Well, the same can't be said about the song. Shreya Ghoshal sings it.

Zanjeer's music is barely passable and doesn't have a single song that can become a chartbuster. The makers do try to give it a wholesome entertainer feel by bringing in a theme track, a couple of item numbers, a love song as well as a couple of situational tracks. Still, the overall impact isn't much at all.

Rediff Rating: