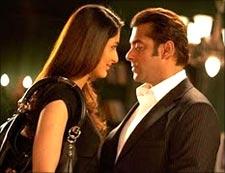 Sukanya Verma feels Bodyguard's music is very average, as it tries in vain to recreate Wanted's hit soundtrack. Post YOUR reviews here!

Salman Khan is Ready again. This time as Bodyguard.

Indeed, a remake of yet another South Indian, Malayalam to be specific, hit film of the same name. Only it's not Ayesha Takia or Asin but Kareena Kapoor he's sworn to protect in this unabashedly of/by/for Sal-Man vehicle.

Oddly, there's not much time for song 'n' dance in this Siddique-directed romance masala with only four tracks and numerous remix versions scored by Salman's ertstwhile regular, Himesh Reshammiya to Shabbir Ahmed and Neelesh Mishra's lyrics.

The soundtrack opens with Bodyguard to bellow out the merits of the self-proclaimed saviour against Reshammiya's dhinchak overload. The attempt to recreate another Dhinka chika is so explicitly obvious; it's almost pathetic to see the ploy fail.
Perhaps it's the absence of a saucy Amrita Kak and Mika or the presence of Salman recycling the familiar formulaic pattern, verbal swagger et al, Mujhpe ek ehsaan karna, ke mujhpe koi ehsaan mat karna. Most Wanted, anyone? The remixed edition doesn't do anything more dramatic with this already heaving racket of a track.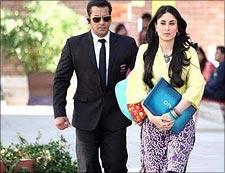 Putting a stop to the blaring tempo of the title ditty is composer Pritam to the rescue. No wonder, I love you makes such an affable impression in comparison. A smooth play of harmonica blends seamlessly against the upbeat vocals of Ash King and Clinton Cerejo even as the laid-back I love you works its magic that deserves a sweet if not spectacular rating.
A remix follows, doing the usual -- playing up the arrangement in a concurrent rhythmic mold, that's, truth be told, plain unnecessary. Shaan offers a pleasant surprise with his unplugged rendition of the same, which is quite easily the winner of the lot.
Dhinka chika duo Mika Singh and Amrita Kak are not so AWOL after all. The flamboyant singer team collaborates on Desi beat, lending their brand of verve to whip up one vibrant bhangra cocktail. The comical 'tyaon tyaon' chorus chunks and high-strung energy of this Reshammiya concoction sits favourably in its leading man's predilection for playing to the gallery. Other than the mandatory remix, there's still another interpretation with Mika making way for Alam Gir Khan bringing in further rusticity and zing to The Beat.


Finally, there's Rahat Fateh Ali Khan and Shreya Ghosal contributing the so far romantic soundtrack its share of melancholy with the high-pitched despair and lamentation of Teri meri. It takes Khan and Ghosal's collective credibility, skill and input to make a song out of Reshammiya's otherwise standard, banal tune. Oh yes, remix and unplugged avatars of this one are available too.

Giving Salman Khan's clout at the moment, Bodyguard could well benefit just as well.
Box office possibilities aside, the soundtrack is not write-off material but nothing to write home too with only awful, average and alright on its menu.
Rediff Rating: