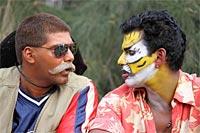 Pavithra Srinivasan reviews the Tamil album, Avan Ivan.
Post YOUR reviews here!
Director Bala's latest film
Avan Ivan
has Arya, Vishal, Janani and Madhushalini in lead roles. The music is scored by Yuvan Shankar Raja, while Na Muthukumar has come up with the lyrics. Here's a look at the album:
Rasathi begins on an angsty note, as Haricharan picks up the vocal reigns, and there are faint strains of the classic
Munpaniyaa
 -- but the song shifts direction soon. The lyrics are standard, colloquial fare but again, the score takes precedence here. The instrumental score is fascinating. An appealing number.
Dia Dia Dole
, rendered by Suchithra, reminds you of
Om Sivoham
from
Naan Kadavul
. Impressive beats follow, to the accompaniment of a melodious
nadhaswaram
. An enthusiastic number.
It's not obvious right away, but there's a Malayalam twang to
Oru Malayoram
, sung by Vijay Yesudas, Baby Priyanka (her voice is particularly fluid and melodious), Baby Srinisha
and Baby Nithyashree. The first interlude, in fact, sounds a lot like the classic
Mohanam varnam
; a neat flute piece leads to the
charanam
. The lyrics are as soothing as the song itself. A gentle number.
There's an ominous feel as
Mudhal Murai
begins, dripping sorrow and desolation with every note. Vijay Prakash renders the sorrowful song, singing about death.
More ethnic beats, as the
nayanam
begins its folksy tune for
Avanappathi,
T L Maharajan and Sathyan take up the vocal reigns. And as in some of the numbers above, it's the rhythm that takes centre stage. And during the
charanam
, the tempo increases, making for an enthusiastic listen. The lyrics, particularly approaching the finale, are impressive: '
Picchaidhaan Eduthaalum, Perasanaalum Aanaalum, puzhuvukku Iraiyaavan verae Enna
?' This one is a triumph of the instrumental score, again.
When it comes to
Avan Ivan
, it looks like Yuvan has voluntarily tried to move out of his comfort zone, given up on his template and experimented, particularly with the instrumental arrangement and most times, it works. Go for it.
Rediff Rating: