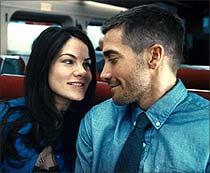 Ankur Pathak reviews Source Code. Post YOUR reviews here!
Ben Ripley carved screenplay of Source Code reflects 'eight-minutes' of thorough inspiration from the ingeniously penned romantic fantasy Groundhog Day by Danny Rubin. Just add to its laidback avatar - bumpy splish-splashes of ground-breaking science-technology and tension-arousing unravelled mysteries.

A bewildered Jake Gyllenhall wakes up disoriented in a commuter train routed to Chicago in the company of a pretty lass. He knows himself as Captain Colter Stevens - an Afghan war veteran but the hottie opposite refers to him as Sean. After a quick glance at the mirror, he sees himself as not him. Before he can investigate further about this abrupt change in scenario, a freight train passes on the parallel track, and a heavy explosion encompasses this one into flames, seemingly killing him and other commuters. Waking up in an air-tight chamber, and blurrily channelled through a mini-LCD, a woman – Carol Goodwin (Vera Farmiga) vaguely conveys that he is on a different mission, and that he'd be reliving eight minutes onto the ill-fated train again and again, until he rounds up on the person triggering the bomb. Poor chap is clueless, and horrified as well, wants to have one conversation with his father, which certainly lies at the bottom of the in-charge's priority list.

Jake Gyllenhaal is peculiarly outstanding at portraying a perplexed, curious and a harrowed person. It's got more to do with the way he looks, than anything. This is why Source Code knits with his personality seamlessly, as that is what it demands from him throughout. He shoulders the film on his own - from being the guy trying to grasp the eccentric situation to being inseparably caught in the turn of events, he shimmers with his act.

There is sizeable resemblance in the intentions of Inception's Dom Cobb and our Colter Stevens, in terms of their job premise. Both are entrusted with seemingly impossible tasks but they are aware of its possibility.

But where Source Code scores a badge of betterment, and also which is all the more poignant is that unlike Cobb – who knows way too much than what we are aware of, Colter Stevens's knowledge is enlightened simultaneously alongside spectators. Thus, your brain doesn't strain to the levels of an explosion, making the involvement even more thrilling.

Later, it is established by a limping Dr.Ruttledge (Jeffery Wright), who is responsible for this beautiful machinery that is Source Code, "doesn't change the past, but can affect the future."

So implied is that the bomber has elaborate schemes of flaming up Chicago, and if recognized, it could be timely averted. A childish ploy, as if the stud behind the bombing spree decides to deliberately drop a cue, so at least there is an attempt to foil him.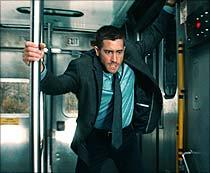 Director Duncan Jones, who made the strictly average Moon a couple of years back, has perhaps got a fascination with heroic personalities facing inner turbulence. He certainly is a charmer in creating a tension-wrapped environment. Since Capt. Stevens has to repeatedly go through the harrowing eight minutes, chances are high of the film resigning to monotony. Precisely here, Ben Ripley's screenplay flaunts some exceptional writing. The recurrent explosion is shot diversely, and with each, there is a sense of deep engrossment from the viewers' part, also as it swiftly aids in the film's progression. 

Michelle Monaghan (Eagle Eye, Gone Baby Gone) as Cristina develops into an unexpectedly prominent ingredient in the proceedings, and with those slightly puzzling glances, charismatic occasional grins, and cherub-like expressions, she is not only romantically inclining Stevens to her, but more importantly adding a lot more significance to the clandestine operation. Remember – Jake's character is dealing with people who are already dead, which makes it pretty worthless and absurd of him engaging in any liaison.

But best is yet to be seen. In what could have easily been a forgettable outing, Vera Farmiga's Capt. Colleen Goodwin is a winner with the subtle yet tempting transformation from being a cold, steely instructor, having nothing like an emotional drift to her evident chopping of the character into a more humanly approachable person in the sci-fi madhouse. And that performance is beguiling. Even when she's not mouthing carefully-constructed lines, the unerring expressions are at play as captivating catalysts.

What punctures the journey of Source Code in achieving greatness is the impetuous alteration towards its termination, which by contradicting the rationale of its own establishment, chooses to go for an audience-stimulating climax, largely modifying the dynamics of the ambitious operation. This shocks more than it pleases.

An attempt to sentimentally arouse the viewers, it is disheartening because the film classically succeeds in fashioning a tensed atmosphere, and we want to keep our nerves cold. A sudden shift aiming at sanguine pleasure is for once, too honeyed to digest.
At times, and mind you, at crucial ones like this – the pain comes across so beautifully, that you actually want to go through it, and maybe even preserve the memory, and leave contented even with that unfulfilled aspiration. Source Code evades it, in a gamble to emotionally capture the audience, greatly deemphasizing its stature, and robbing itself of an extra half star.

Rediff Rating: