Spirited actress Lindsay Lohan and debutante screenwriter Tina Fey contribute in director Mark Waters's biting comedy. Mean Girls towers above most recent teen movies. Despite a contrived climax, the campus caper is both funny and life-affirming.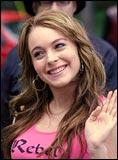 Set against the background of school clicks and the power they try to enforce on the young, particularly the vulnerable ones, Mean Girls is based on Rosalind Wiseman's best-selling novel. The complete title nicely announces the film's themes: Queen Bees and Wannabes: Helping Your Daughter Survive Cliques, Gossip, Boyfriends and Other Realities of Adolescence.
After years of home schooling in an African country, Cady (Lohan) has just entered a school in Chicago. In the new jungle, she meets an assortment of wild and colourful characters. For instance, the geeks are called Mathletes. Unlike other teen flicks, however, scriptwriter Fey doesn't treat them with meanness or ridicule.
There are also the Plastics — three girls who are seemingly experts in social climbing and psychological warfare. But the script does not also see them as mindless or heartless creatures. We get to see them as young women who are slowly getting to know what self-worth is and how to handle the fear of failure.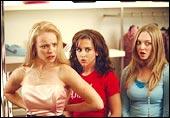 Cady is initially bewildered by the new milieu and scared of her loneliness. She befriends two social outcasts (Lizzy Kaplan and Daniel Franzese). The Plastics, too, are interested in Cady. They — Queen Bee Regina (Rachel McAdams) and her sidekicks Gretchen (Lacey Chabert) and Karen (Amanda Seyfried) — want to exploit Cady's alluring looks and her innocence.
The outcasts encourage Cady to go along with the Plastics and hang out with them till she gets out some interesting secrets about them.
The film's most thought-provoking part emerges now as Cady starts enjoying her little espionage games. Before she realises it, she too becomes a 'mean girl'.
Tension builds when she develops a crush on a hunky schoolmate. Though he has been discarded by Regina, the Queen Bee cannot stand to see him with Cady.
Cady's self-discovery process and life's lessons could have turned Mean Girls into a heavy moral tale. But the scriptwriter and director's delicate handling plus additional comic punches save the day.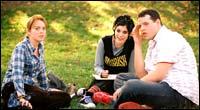 Lohan is good at emoting and physical comedy. She is the film's biggest asset among the actors. Some of the older actors also add charm to the proceedings. Tina Fey has a small but interesting role as a recently divorced, sexually frustrated teacher. Tim Meadows plays the school principal. Amy Poehler is Regina's mother. Her emotional IQ may not be higher than that of her daughter.
The cast and several interesting comic situations keep Mean Girls moving on the right track. On the flip side, the contrived and overplayed climax is jarring. It considerably lessens the film's impact.
CREDITS
Cast: Lindsay Lohan, Rachel McAdams, Tina Fey, Tim Meadow, Amy Poehler, Ana Gasteyer, Lacey Chabert, Lizzy Kaplan and Daniel Franzese.
Director: Mark Waters
Script: Tina Fey, based on the book by Rosalind Wiseman
Running time: 1 hour 36 minutes
Rating: PG-13 for sexual content and language