Poor writing sinks this period film which is watchable for Mammooty's gravity defying stunts, says Divya Nair.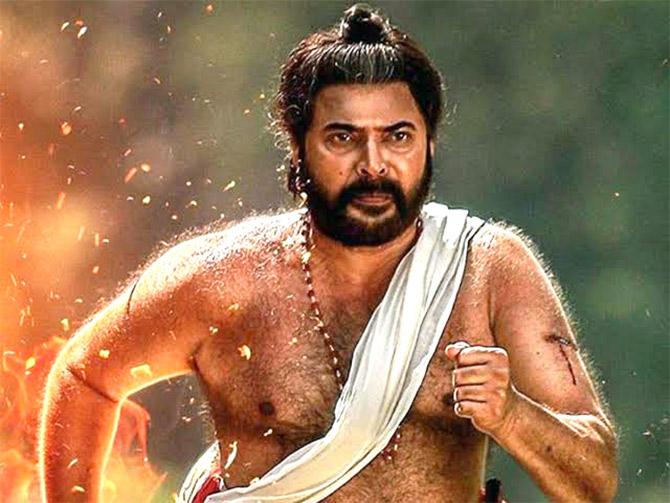 It is the premiere show at this theatre in Kalyan that I am watching. The crowd, which includes grandmothers in their 70s and early 80s, some of who have heard the folklore of Mamankam's festival in Kerala's Tirur district from their elders, can't wait for the movie to begin.
This audience, which occupies 30% of the movie hall on a Thursday evening to catch the premiere show, is different. They haven't come to click selfies, consume popcorn and nachos and have fun. They want to see how the fading folklore of the 17th century they grew up on is immortalised on screen.
For the uninitiated, Mamangam attempts to tell the story behind a popular temple festival celebrated in Tirunavaya, a small town in Tirur.
Mamankam, held once every 12 years, is significant for its political and economic influence on Malayali society.
Directed by M Padmakumar (after replacing Sajeev Pillai), the film, set in 1695, starts off by narrating how the Samuthiris (Portuguese, Chinese and Dutch invaders, also called zamborins) took control over the grand festival from the original Valluvanadu citizens.
Every 12 years, chaverukal (suicide warriors) from different parts of Kerala who secretly attend the festival stand up to fight the Samuthiris.
The opening scene where Mammooty's character (Chandroth Valiya Panicker) is introduced as one of the chaverukal is powerful and impactful. Armed with a sword and shield (and several hidden tactical weapons), the bare-chested warrior, adept at kalaripayattu, the traditional Malayali martial arts form, swings to action in the air 'like a bird' as he is later described by his men.
The first 20 minutes of the film, forget the poor VFX, promises you an adrenalin period drama led by Mammooty who looks his part, moves swiftly like the wind, looks at his enemies straight in the eye before he crushes them with his sword.
The hundreds of chaverukal are no match though for the army of Samuthiris who outwit them in terms of resources.
When the story leaps 24 years, Mammooty is labelled a traitor for fleeing the battlefield and letting down his people. In two decades, the Samuthiri army has grown manifold while the chaverukal are reduced to a gaggle of ageing men.
No mother obviously wants to send her male child to an unfair battle where death is inevitable. Yet, much against the wishes of their mothers and wives, Unni Mukundan (Chandroth Panicker) and Achutan (who plays Chantunni, Panicker's 12-year-old nephew) follow divine intervention and set out on an unpopular journey to seek revenge for their ancestors and overthrow the Samuthiris.
The first half of the film, which is the most powerful part of the story, is interrupted by an incident where Samar Koya (played by Tarun Arora), a prudish member of the Samuthiri army is killed and the cause of his mysterious death is investigated.
The costumes and locations -- which at times look like cheaper reproductions of Baahubali -- are grand and may also take your breath away. But what about the story?
The writing is shoddy and so verbose that important characters are reduced to caricatures mouthing long boring dialogues in what should have otherwise been a brilliant film.
It is disappointing to see talented artistes like Anu Sithara, Kaviyoor Ponnamma, Mala Parvathy and Kaniha being reduced to crying and mourning figures. Actors like Sudev Nair and Manikuttan also don't have much to offer.
Prachi Tehlan, who plays a seductress, is clearly a misfit in the role which is better delivered by her counterpart in the film, Iniya, who plays Unni Neeli. It's a shame that Prachi -- who apparently gained 8 kilos for the role -- debuts in a significant regional film where she cannot even lip-sync, forget act.
Siddique is menacing in his role as the unnamed Samuthiri investigator. But even the collective talents of Mammooty and Siddique cannot lift a film failed by its writers.
There is a scene in the second half where Mammooty's older character confronts Siddique. Mammooty takes the latter by surprise as he plants his enemy's sword in the ground and declares how he wouldn't use the sword -- a symbol of valour and sacrifice of his men -- to kill one of the zamborins, who he says, have won the war through deceit not because of their strength or merit.
For a second, you sense Mammooty's frustration. By now, he has given up and doesn't want to fight. It is futile -- just like the film.
Mamangam can still be watched for its action sequences. Mammooty's gravity defying stunts are far more convincing than Mohanlal's (please don't even compare Pulimurugan or Kayamkulam Kochunni) so much so that you wish the VFX team had put in some effort to think out of the box than merely trying to replicate scenes from other successful period dramas.
There are subtle, blink-and-you-miss-it references to caste politics -- there is a scene in which a lower caste woman defends Chandroth Panicker with a sickle (not a sword) and she isn't wearing a blouse (because only the upper castes were then allowed to wear blouses).
The intention to narrate a fading story and highlight Kerala's rich culture and its varied elements is laudable. The talented cast must be given credit for attempting the roles assigned to them, but even their collective efforts can't save this movie.
---
Divya Nair spurned an acting career to become a journalist. While she is not working on Rediff features or playing with her son, Divya catches up on Malayalam and Tamil movies.
She can be reached at divyan@rediff.co.in
---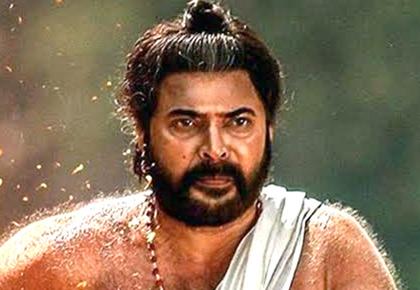 Rediff Rating: