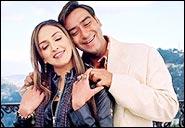 Picture this: Sean Penn breaking into a song in the highly emotional I am Sam. Hard to imagine, right?
Now, replace Penn with Ajay Devgan doing the same. Wasn't really an effort, was it?
Moral of the story: You can't beat Bollywood logic.
Devgan plays a mentally challenged father vying for his daughter's custody in
Main Aisa Hi Hoon,
the Bollywood take on the Hollywood drama.
Directed by Harry Baweja, Main Aisa Hi Hoon, co-starring Sushmita Sen and Esha Deol, has music by Himesh Reshammiya.
The album opens and ends on a trademark Reshammiya note. The Tere Naam hangover is evident.
Deewanapan Deewangi
is apparently a love song but the way Udit Narayan and Alka Yagnik go about it, it's hard to tell. The song has a brief piano version, which is more appealing.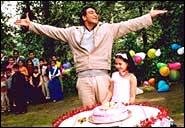 Shaan comes to the rescue as he infuses spunk and pep in Just Walk Into My Life. The Punjabi-English combo meal makes for a catchy appetiser. Unfortunately, the main course never arrives.
Any song dedicated to parents has to be emotional. Hence, please excuse Papa Mere Papa for sounding painfully mawkish.
There are some saving graces. Sonu Nigam spins magic and romance into the gentle melody, Raat Hai Soyi. Sunidhi Chauhan is good at singing fast-paced club songs. So Teri Galiyon Se, an upbeat and tad unconventional ditty, is a cakewalk for her.
Last and definitely the least, Dil Mera Todo Na is completely pedestrian. It tempts you to act contrary to the lyrics, and reach for a hammer.
Over all, Main Aisa Hi Hoon is just another regular soundtrack. But it does have a couple of songs that may catch your fancy.