Bollywood is thinking big. SFX big.
If Hrithik Roshan-starrer
Krrish
was high on superhero activities, Harry Baweja's latest,
Love Story 2050
, as the title suggests, is an ambitious romantic caper set in a futuristic time line. It also acts as a lavish, no-expense-spared launch pad for son, Harman, co-starring red-haired Priyanka Chopra and Einstein-inspired Boman Irani.
Anu Malik, who previously helmed the music for Baweja's mushy triangles like
Imtihan
and
Diljale
is in charge of
Love Story 2050's
soundtrack. While there is nothing really ahead-of-its-time about its sound or sensibility, the album -- penned by Javed Akhtar and interspersed with 'flirtatious boy-giggly girl' dialogues between its romantic lead -- is part-entertaining and part-predictable.
Electronic-enhanced chorus reigns supreme while you warm up to the synthesizer-friendly percussions of
Milo na milo
. This one's a true blue Anu Malik composition in essence, accessorised by techno-elements and Shaan's boyish brand of enthusiasm.
Though it sounds familiar, like a reworked tune from Malik's stable of melodies,
Meelon ka
is effectively forlorn and resonating. It involves Kay Kay and Alka Yagnik profoundly lamenting over love going the distance in the presence of hard-to-miss undertones of John Barry's signature strain for the title track of
You Only Live Twice
.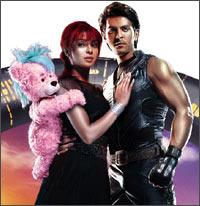 Demure piano beats and dainty strumming of the guitar set the mood for the intentionally gooey
Love Story
. Interestingly, Malik adapts Barry's above-mentioned
theme for this romantic duet as well. There is also a sad version of the same, which is expectedly slow-motioned and somber.
Kunal Ganjawala makes an indifferent impression, despite his spirited efforts, as do the the trite and tedious tunes of
Sach kehna
. Ditto for Kay Kay's miserable attempt to burn the dance floor with the trepid and off-tuned
Aa gaya hun mein
, a clumsy mishmash of East meets West.
Up next, Alisha Chinoy slips into techno gear to ooze inanities like 'Hey you loverboy! Will you be my toy?'  Though the song, its come-hither content notwithstanding, doesn't serve of much interest, Salim-Sulaiman's arrangement is fairly engaging.
Melliflous beats and attractive poetry of
Mausam achanak
, aided by the honey-laced vocals Alka Yagnik and Shaan paint a pretty picture. The creation's easy-going, silvery nature makes it fall in the instantly likable category.
Soft love ballads or playful ditties have always been Anu Malik's forte. But a sci-fi flick like
Love Story 2050
asks for something radically innovative and decidedly eccentric, which the music director fails to deliver. 
Rediff Rating: