You can't fault the logic of Koi... Mil Gaya.
But to imbibe and revel in it, some givens have to be taken in one's stride:
* An alien will always be the 'other' and any attempt to portray the 'other' will invariably translate into a creation that is furthest to the human form. Hollywood, the mecca of alien potboilers, is guilty of this. It is only fair to give Bollywood generous leeway in this regard.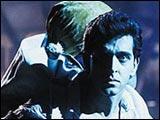 Jaadoo, in KMG, hence, is mottled blue, stands approximately three-and-a-half feet short, has huge saucer eyes, blurts in a harsh metallic voice, and has an odd-shaped head that is neither a football nor a rugby ball.
* An alien ought to have extra-human powers. Importantly, those that can be transferred to ordinary mortals like you and me.
* Songs. Commercial cinema cannot do without it. KMG is no exception. But Rajesh Roshan's songs waft into your ears and stay on for quite some time. Most of them are in sync with the storyline. My favourite is Idhar chala mein udhar chala. Most songs have also been picturised well and rely on the actors to provide the impetus rather than group dancers or 'gimmicks' as Bappi Lahiri would put it.




Send your own review!
Koi... Mil Gaya: Sneak peek!

Rediff Special: Koi... Mil Gaya

Hrithik becomes a baby!

Preity in Koi.. Mil Gaya


The last song, Haila haila hua hua, though, is an obvious attempt to rope in audiences who might not otherwise be sucked in by unconventional promos. It has both Hrithik Roshan (Rohit) and Preity Zinta (Nisha) changing into weird outfits at the end of each stanza, typical Bollywood ishtyle.
Once these givens are factored in, it is not wrong to say Koi... Mil Gaya treads where Bollywood seldom travels -- the path of science fiction -- and where the protagonist is not a hulk imbued with supernatural physical prowess coupled with Einstein's brains.
A mega positive is Hrithik Roshan's acting. He is the turbojet that propels the film to the realm of the extraordinary. On screen you see Rohit, the mentally challenged adult, and not Hrithik Roshan, the star. Rohit connects with you immediately. His endearing innocence and the clean-hearted fun he indulges in has you in splits. But within seconds, he also brings a lump to your throat when the bullies pick on him.
What gives Rohit's character flesh and blood, so to speak, are the screenplay (Sachin Bhowmick, Honey Irani, Robin Bhatt and Rakesh Roshan) and the dialogues (Javed Siddiqui). Rohit is essentially a child in an adult body and the dialogues amply reflect that. His repartees are a treat, especially the ones reserved for the neighbourhood bullies (Rajat Bedi et al).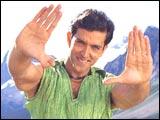 The maturity of the screenplay comes to the fore when one does not notice the antics of the kids (Parth Choksi, Chhotu Dada, Afzal Khan, Bobby Bedi, Rahul Mahajan, Dimple, Sunita Padbidri). They are neither shrill nor syrupy nice. They are normal and blend integrally with the story. They are Rohit's pals, partners-in-crime, and their comic timing is spontaneous. Watch out for the way they 'clear' Rohit's head on who is a girlfriend and who is not.
The locales are also superb and a sight for sore urban eyes. Verdant green is the dominant colour, though much of what passes for Kasauli appears to be Calgary, Canada.
While the positives outweigh the negatives, Papa Roshan's much-hyped Jaadoo aka the little blue thing is a big letdown. The effort to make it look not human is obvious. Sometimes, when effort is obvious, it translates to a job not well done.
| | |
| --- | --- |
| | Discuss! |
| | |
An obvious comparison that springs to mind is Steven Spielberg's E.T. The Extra-Terrestrial. The second half of the movie, especially the establishment's efforts to capture Jaadoo and Rohit's efforts to safekeep the alien, remind you of the all-time sci-fi classic.
But Rakesh Roshan is no Spielberg; Jaadoo amply demonstrates it. For those who have seen E.T., the most impressive part of that alien were the eyes, which were warm, friendly and naughty. Jaadoo is plasticky, exudes the life of a mechanical contraption, and has big, but blank, eyes.
Another sore point is the spaceship. I, for one, still can't believe they hired the Independence Day special effects guys for this. I have seen better ones in the thirty-second ads that news channels show between bulletins. The inside of the spaceship looks like a circuit board with backlight, which contributes to a high tackiness quotient.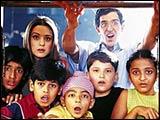 The poor production quality also takes the gloss off parts of the film. Accustomed to seeing, for instance, hi-tech trucks used for capturing aliens in Hollywood counterparts, it is disappointing to see genuine cardboard passing off as supposedly hi-tech trucks.
Preity Zinta's outfits, Rekha's passive sob-sob sniff-sniff mother role, Prem Chopra as the collector of Kasauli, Mukesh Rishi as the honest cop, and Johnny Lever as the loud Sindhi constable strike jarring notes.
Preity's outfits are skimpy, but you are left wondering if there is anything the friendly neighbourhood tailor could not have done.
All said, however, one thing is sure. Papa Roshan has done a good turn and infused a fresh lease of life into junior Roshan's career.
KMG is a potent mixture. In all probability, it is what the doctor ordered for a weak box office. Hrithik alone is worth the price of your ticket.
CREDITS
Cast: Hrithik Roshan, Preity Zinta, Rekha, Prem Chopra, Johnny Lever, Rakesh Roshan (special appearance)
Director, producer: Rakesh Roshan
Music: Rajesh Roshan
Cinematography: Ravi K Chandran, Samir Arya
Screenplay: Sachin Bhowmick, Honey Irani, Robin Bhatt, Rakesh Roshan
Dialogues: Javed Siddiqui