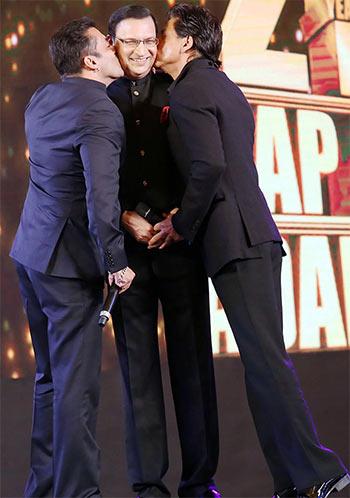 For a show that prides itself on being of the people, by the people and for the people, it's strange how in its moments of success, the 'people' were missing, says Sukanya Verma.
A senior journalist and his channel's popular show on small screen turns 21 years old.
How big a deal is that? Considering the celebration party saw an attendance from the glitterati of various fields like media, industry, public services, entertainment (read Bollywood) and sport (read cricket) but also political bigwigs that include both the President and Prime Minister of India, I'd say a lot.
The guest list covered both extremes of the celebrity spectrum justifying the presence of contentious folk like Baba Ramdev, Rahul Mahajan and Rakhi Sawant hobnobbing with the Z-security crowd.
In the one and half hour long program conducted at New Delhi's Pragati Maidan and aired on Star Plus, Rajat Sharma, Chairman and Editor-in-Chief of India TV, took centre stage to celebrate his flagship show, Aap Ki Adalat's 21st birthday with spectacle and star power in the vein of film awards function.
The Bollywood turnout was in full force -- Aamir, Salman and Shah Rukh Khan, Jaya Bachchan, Anil Kapoor, Shatrughan and Sonakshi Sinha, Rani Mukerji, Anu Malik, Sonu Nigam, Prasoon Joshi, Hema Malini, Vinod Khanna, Ajay Devgn, Anupam and Kirron Kher, Madhur Bhandarkar and Subhash Ghai.
It began on a formal note with Prime Minister Narendra Modi and President Pranab Mukerjee's mandatory speeches commending Rajat Sharma's achievements and unique drilling style.
Calling the occasion a sort of "Thanksgiving ka avsar," Modi acknowledged the contribution of his widely viewed interview with the host during the peak of election campaigning and how it offered him an ideal platform to connect to the masses/voters. Sharma reciprocated by presenting the PM with a Best Show award (a cheap looking frame with a shabbily inserted image of its star interviewee) for the same.
Unlike the show itself whose highlight is a sly, sharp and incisive Rajat Sharma cornering his famous guest inside a palisade with pointy allegations and tricky queries, the celebration was noticeably low on both insight and humour.
What it scored on was gimmick -- the kind even Karan Johar and Aditya Chopra find tough to achieve -- getting the Khan triumvirate to share stage.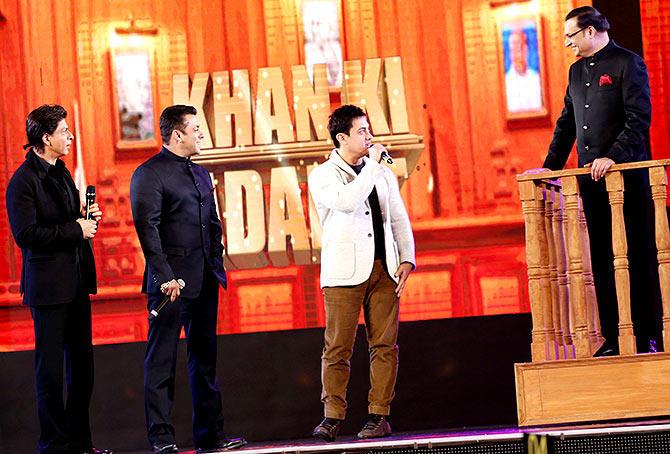 Image: Shah Rukh, Salman and Aamir Khan with Rajat Sharma
Shah Rukh and Salman Khan, visibly comfortable around one another even if aware of every eye in the room deciphering their body language, gathered on stage to interrogate the poker-faced Sharma with a "Khilli udayi jaaye" objective but his dull responses failed to spark any fun.
Even as Salman actually shared hosting tips from his Bigg Boss stint with Sharma in his characteristic care-a-damn style, SRK inquired the secret of his ever-glowing complexion in order to improve their own. Speak for yourself, quipped Salman, looking nothing like a man weeks away from turning 49, quipped.
Part of the duo's shtick involved recreating the 'Arpita kiss-on-the-cheeks moment' with Sharma.
After a few more ho-hum jokes and the inevitable mention of Katrina Kaif, Salman forgot its Aap Ki Adalat and not Bigg Boss. Result, roping in a bewildered Aamir Khan, awkward Sharma and sporting SRK to perform the towel dance moves from Jeene ke hain chaar din (Mujhse Shaadi Karogi). Like they say in snooty fashion speak-- most event inappropriate.
For all his no-nautanki stance, the PK star didn't miss a chance to promote his soon-to-release movie, by gifting a two-in-one he's carrying in its posters, to Rajat Sharma.
One would have rather watched the Khan troika in a zany Andaz Apna Apna brand of comedy rather than dumbed down, unfunny buffoons. Only it made for an exclusive photo op and the most highlighted attraction of the evening.
After they did their bit, we saw the likes of Shilpa Shetty ('if you are on Aap Ki Adalat, you have arrived'), Sonakshi Sinha (still quoting her lines from Dabangg), Anil Kapoor (did daughter Rhea style that uber dapper look, sir?) and Hema Malini (in her element as usual).
The show wrapped up with nostalgic clips of its memorable moments, far more hilarious and candid than the live celebration.
There's also a montage to commemorate the guests -- Bal Thackeray, Rajesh Khanna, V P Singh, etc -- who've passed on in the tradition of movie awards function.
But for a show that prides itself on being of the people, by the people and for the people, it's strange how in its moments of success, the 'people' were missing in this party.
Rediff Rating: